LSN's Birmingham Law Firm Forum networking event is our biggest Brum turnout ever

LSN had a marvellous evening in Birmingham on this year's most auspicious day (if you're a druid, or that was your birthday - or both, even) ... 29 February.
Everyone had a lovely evening meeting their peers from law firms in and around Britain's second city - in fact, we drew the largest crowd in Birmingham we've ever seen, with 54 guests from 13 law firms. Want to see what it was like? Go to our picture gallery of the event.
LSN hosted the Birmingham meet at the Colmore Bar and Grill, which was a lovely place to be. It was even more lovely for Jennie Sanders, online marketing manager from Simpson Millar, who won our prize draw for the night, supplied by Travelex Global Business Payments.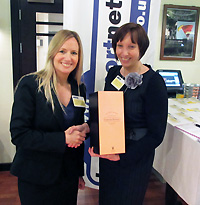 Here's Jennie (right) receiving her prize from Natalie Shears at Travelex.
Jennie said: "LSN events provide a relaxed, comfortable environment whereby you can network with other support teams and individuals within the legal sector.
"These types of events are few and far between for support staff, so it's a great resource that the LSN provide. I have attended a few of the LSN events now and have recommended them to other support teams in our other offices who also now regularly attend the events for example in Leeds.
"As for winning the prize draw, I can merely say that I hardly ever win anything, so it was a very welcome surprise and the champagne is being saved for a special occasion.
"Mind you, sometimes just being a Friday could be classed as a special occasion!"