Legal Practice Management magazine – the only magazine for law firm managers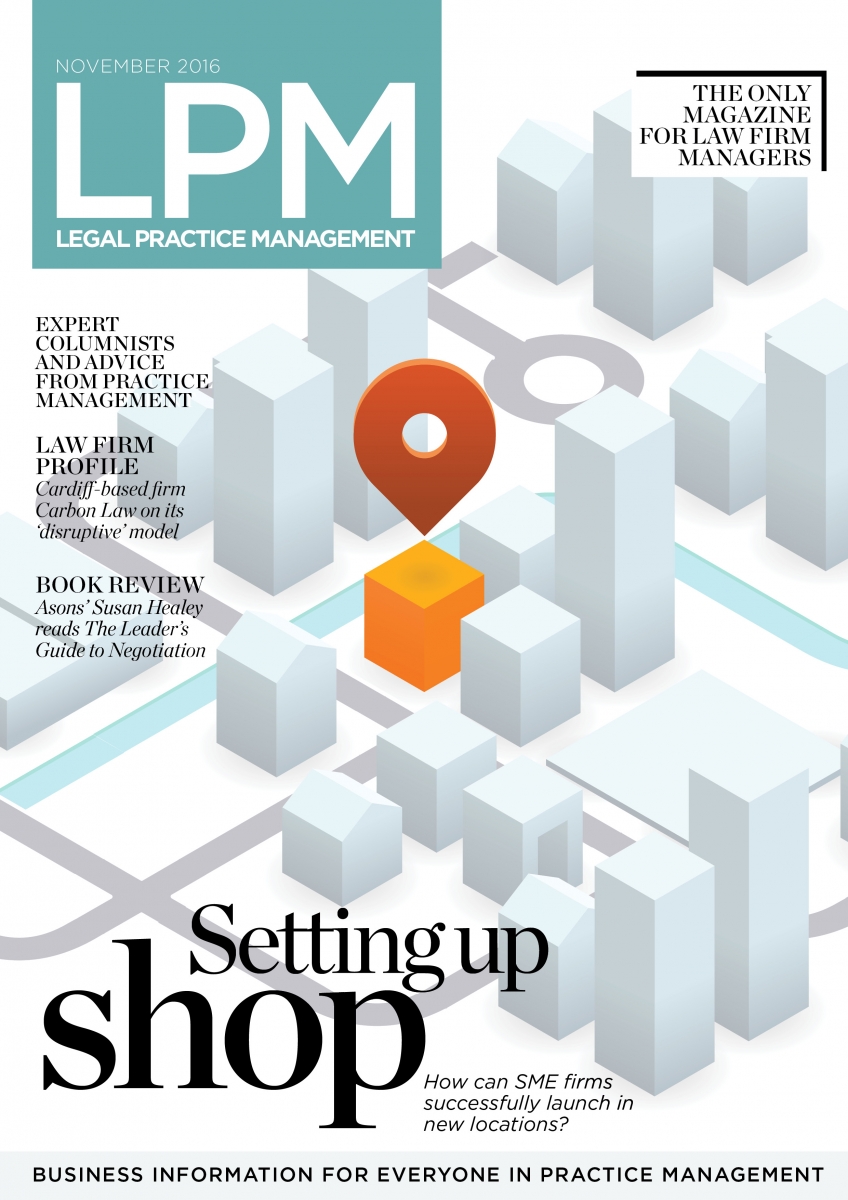 Legal Practice Management magazine
– for tomorrow's SME legal business
SME law firm management face unique challenges with fewer resources than their large firm cousins.
That's why we've brought the knowledge and production values of our top 100-focused magazine, Briefing, to the SME law firm market.
Building on the success of the only practice management conference, LSN's LPM conference, the launch of Legal Practice Management magazine has been a natural and necessary way to move forward.
Sign up now for your print and digital copy of the management magazine for tomorrow's SME legal business.
Download back issues of LPM magazine, completely free:
LPM magazine, cybersecurity supplement: Is your firm under attack?
LPM magazine, October 2016 – Fixing fees | Issue no. 28
LPM magazine, September 2016 – Going up? | Issue no. 27
LPM magazine, July 2016 – Testing talent | Issue no. 26
LPM magazine, June 2016 – All change | Issue no. 25
LPM magazine, May 2016 – The new owners | Issue no. 24
LPM magazine, April 2016 – Going under? | Issue no. 23
LPM magazine, March 2016 – Cut here for legal projects | Issue no. 22
LPM magazine, February 2016 – Numbers and signs | Issue no. 21
LPM magazine, December 2015 – Marketing for the emoji era | Issue no. 20
LPM magazine, November 2015 – Teach yourself rocket science | Issue no. 19
LPM magazine, October 2015 – Out with the old, in with the neuro | Issue no. 18
LPM magazine supplement: Turning paper into process
LPM magazine, September 2015 – Navigating change | Issue no. 17
LPM magazine, July 2015 – Under pressure? | Issue no. 16
LPM magazine, June 2015 – Brighter ideas | Issue no. 15
LPM magazine, May 2015 – People power | Issue no. 14
LPM magazine, April 2015 – Under the hammer? | Issue no. 13
LPM magazine, March 2015 – Intelligent future | Issue no. 12
LPM magazine, February 2015 – Technology trends | Issue no. 11
LPM magazine, December 2014 – Has the LSA delivered? | Issue no. 10
LPM magazine, November 2014 – Last chance for Quality? | Issue no. 9
LPM magazine, October 2014 – Safety in numbers? | Issue no. 8
LPM magazine, September 2014 – Your world in numbers | Issue no. 7
LPM magazine, July 2014 – Fixed fees: kill or cure? | Issue no. 6
LPM magazine, June 2014 – Innovate to survive | Issue no. 5
LPM magazine, May 2014 – featuring Jeremy Hopkins, head of operations at Riverview | Issue no. 4
LPM magazine, April 2014 – The state of the legal nation | Issue no. 3
LPM magazine, March 2014 – The COFA conundrum | Issue no. 2
LPM magazine, February 2014 – featuring Simon McCrum, managing partner of Darbys | Issue no. 1