Access present a tasty prize to the winner of our 21st London event prize draw

Last week Monday we reached the landmark of 21 London Networking Events, it was a fantastic evening filled with legal mingling, cake, party hats and more cake. Among the array of sweet treats available we gave away many prizes, including two bottles of champagne – and courtesy of Access, attendees were automatically entered into a prize draw in which the winner would be indulged at The Shard with dinner for two.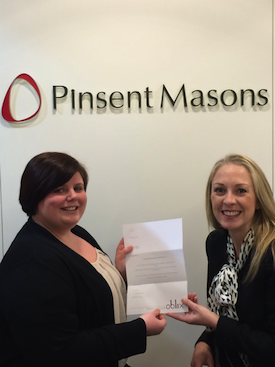 The lucky person in question was recruitment advisor, Shelley Yeomans at Pinsent Masons who discovered her purple passport held the winning number, she had this to say of her win: "I have just checked my purple passport and I have 214! I am so pleased, I nearly gave away my passport as I had a free drink left over and thought somebody could take it off my hands! Phew, thank god I didn't! I never win anything, I was very jealous of the champagne prizes at the event but I am now ecstatic!!"
Dee Caporal from networkpartner Access - a leading provider of HR and Payroll software - travelled all the way to Birmingham to present the delicious prize to Shelley in person! Regarding the latest London Networking Event, Dee had this to say; "Great to be part of another LSN event last week, and to see people networking in the new zones; a fantastic opportunity to share ideas and opinion in the exclusive HR area! Great discussions too in the technology zone, we're delighted to continue to support LSN – we're bringing people and technology together."
A great way to round off our LSN events for the rest of 2013!
Were you at our London Networking Event on 11 November? See if you can find yourself in our photos of the night over in our photo gallery.