The first London Networking Event of the year!

On Monday 10 March, we hosted our first London Networking Event of the year! We're pleased to say it was another great event, with over 300 of you joining us at The Anthologist Bar in central London.
Networking was the name of the game on Monday, and we saw many of you utilising the 'Networking Zones' to create new connections – whilst also catching up with familiar faces over drinks and nibbles.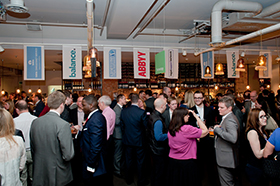 And on top of that, everyone who was there automatically gained entry into a prize draw – giving you the chance to win dinner for two at Pollen Street Social! The yummy prize has been provided by ABBYY and the winning number in question is (drum roll please): 130!
Is this you?
Get your purple passport out from the night and have a look! To claim your prize please get in touch with Sarah Cox via email sarahc@lsn.co.uk.
The evening's key sponsors were ABBYY, Balance Recruitment, Linetime and Tata Consultancy Services, who all value the opportunity to engage with decision-makers and influencers from those within legal.
Were you there?
Then head over to the photo gallery to see if you can spot yourself in the images from the night!
Let us know what you thought about the event in the comments below or why not send us a tweet at @lsn_team.