LSN's Operational Leaders in Legal conference a great success

LSN's second Operational Leaders In Legal conference built on the success of last year's event, with 84 operational chiefs from some of the top legal brands meeting on 8 November 2012 to share challenges and solutions at the Grange Tower Bridge Hotel in London.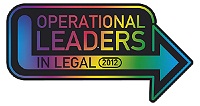 Sponsored by BigHand, D&B, IntApp, Invest Northern Ireland, LexisNexis, PwC, Tata Consultancy Services, Thomson Reuters Elite and Totum, OLIL 2012 saw COOs and other operational heads in law firms hear from 31 senior, experienced leaders in the industry, including:
Peter Hickman, chief finance and operations officer, Linklaters
John Mullins, former chief operating officer, Herbert Smith
Daniel Pollick, director of business infrastructure, DLA Piper
Bruce Macmillan, senior vice president, senior commercial legal advisor, Visa Europe
Steve Poor, chair and managing partner, Seyfarth Shaw
Jason Williams, regional chief operating officer, legal division, Deutsche Bank
Nick Cray, chief operating officer, Hogan Lovells
Abby Ewen, director of business transformation, Simmons & Simmons
Amanda Burton, chief operating officer, Clifford Chance
...and many more. Delegates hailed from 42 law firms, including Linklaters, Weightmans, Baker & McKenzie, BLP, Clifford Chance, DAC Beachcroft, DLA Piper, Latham & Watkins, Eversheds, Ogier, Olswang, A&O, Pinsent Masons, Hogan Lovells, Wragge & Co.
David Edwards, Finance Director at Brodies, said "[It was] an unprecedented gathering of superb speakers who really delivered."
Flemming Larsen, Head of Service Delivery, Berwin Leighton Paisner, said there was "excellent coverage of important and relevant issues. Very useful."
Jeremy Hopkins, Director of Operations, Riverview Law, said it was "excellent – relevant, genuinely insightful & up to date."
Some of the issues addressed included refining legal services delivery, pricing and project management, optimum law firm infrastructure and mergers.
For a full list of speakers, to download their presentations, and to see the photos that were taken on the day, visit the event's webpage. Download the OLIL 2012 agenda here.
LSN will be posting video coverage of the key panel discussion and the event in general in the next few weeks on the LSN YouTube channel. Further details will be announced soon.