Thomson Reuters Elite sends Addleshaw Goddard's Ric Pizzuti on a sky-high VIP experience

On Monday 9 July, LSN welcomed over 300 guests into a new era of networking events with our summer Connect4Community celebration, where the brightest legal business professionals came together for a free evening of fun, games and giveaways. The event was one of three London networking events held each year, which are designed to fulfil LSN's mission to help connect professionals in our community in an original and engaging way.
The LSN team and hundreds of connection-keen law firm professionals took over Bread Street Kitchen in central London for the biggest networking event of its kind in the UK. The sparkling Connect4Community attendee list included 70 brilliant LSN networkpartner guests, our sponsors, DX, Thomson Reuters Elite, Conscious Solutions, Accesspoint Technologies, Aderant and Brother, and 235 legal business professionals from 86 law firms making the most of a Monday night.
Connect4Community's re-energised structure, designed to start conversations and make networking less 'work' for our guests, saw the introduction of icebreaking activities from LSN's new Crowd Connectors. These dedicated sponsors helped hundreds of professionals connect, converse and collaborate in a meaningful way with cleverly designed activities and areas. Bread Street Kitchen buzzed all night in Thomson Reuters Elite and DX's executive lounges, and with Conscious's code-cracking challenge, Brother's cocktail bar, Accesspoint's roulette wheel and Aderant's space-themed VR station.
A few lucky guests won prizes generously provided by our partners and sponsors. Ric Pizzuti, head of finance at Addleshaw Goddard, walked away with a helicopter ride over London for two sponsored by integrated legal software solutions provider and Connect4Community platinum prize presenter, Thomson Reuters Elite.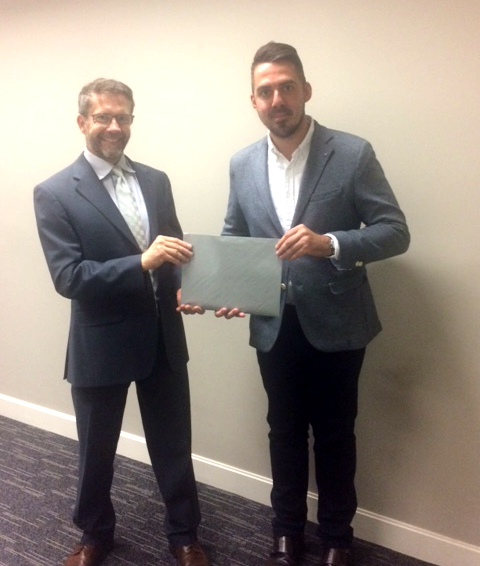 "Great networking opportunities for business services leaders at law firms are few and far between – but it's really important to me that I make the time to meet my counterparts at other law firms, and swap experiences and ideas that may help me make the right strategic decisions or implement business change more effectively," Ric commented.
"I've been coming to Legal Support Network's events since 2013 because they facilitate this knowledge-sharing brilliantly, in a very focused but friendly environment. I am delighted to have won the Thomson Reuters Elite helicopter ride for two at Connect4Community, and I can't wait for the next event in November!"
LSN and Thomson Reuters Elite visited Addleshaw Goddard's London office today to present Ric with the prize.
"At Thomson Reuters Elite we believe that building relationships with the community is essential, so being a part of the Connect4Community networking event seemed like the perfect fit," said Patrick Hurley, vice president, customer advocacy at Thomson Reuters Elite.
"The exciting celebration twist on this summer's LSN event meant that the evening had a fantastic buzz from start to finish, whilst the introduction of the executive lounges provided the ideal backdrop for the team to engage with new and existing contacts. With the chance to win a helicopter ride for two over the city proving too good to miss for the attendees, we were delighted to meet so many of the law firm attendees on the night and send our congratulations again to the lucky winner, Ric Pizzuti of Addleshaw Goddard.
We can't wait to join the Legal Support Network team at the next event, and look forward to replicating the magic again in November."
Connect4Community returns to London on Monday, 12 November, but will next bring legal business professionals together on its regional circuit this autumn with October events in Leeds, Bristol, Birmingham and Manchester. For information on connecting with the brightest in legal business by sponsoring or attending any of LSN's networking events, contact Felisha on 0870 112 5058 or felishad@burlingtonmedia.co.uk.