Rosemary Smith & Co endorses Quill's infallible outsourced services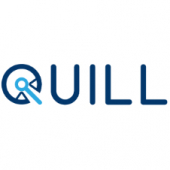 Rosemary Smith & Co Solicitors is a friendly practice offering the full range of legal services to families and small businesses from its offices at Crowthorne in Berkshire.
Following the retirement of its in-house cashier, the Pinpoint outsourced cashiering service from Quill was recommended to them as a hassle-free alternative to recruiting a new cashier.
Helen Johnson, partner at Rosemary Smith & Co, explains how "a large part of our business comes by way of referrals from existing clients so it's fitting that Pinpoint was recommended by our retiring cashier who was familiar with the bookkeeping service from a previous company".
"We switched to Pinpoint around two years ago", continues Helen. "Everything is taken out of our hands and performed by Quill on our behalf, from ledger management to VAT return submission. Certain cashiering responsibilities carry deadlines but we never need to chase anything because experience has taught us that our accounts tasks are dependably completed on time".
With a named team member handling its accounts, Rosemary Smith & Co has developed a close professional attachment to its cashier and deputy in the event of holidays or sickness.
"Our cashier is helpful, conscientious and always resolves any issues quickly", adds Helen. "With weekly reports summarising transactions and suggesting remedial activities, however, there's scarce opportunity for error so we rarely encounter problems. When our cashier is away, we know the deputy will cover instead. It's completely fool proof".
In addition to Pinpoint, Rosemary Smith & Co subscribes to Quill's outsourced payroll service.
"As a combined cashiering and payroll client, we have complete back office support", says Helen. "Both of these functions are extremely time consuming and complex, necessitating involvement with various government agencies and their ever-changing rules. As outsourcing experts, it's Quill's role to keep us compliant with reforms and regulatory guidelines, leaving us free to focus our attention on our own service delivery".
As a Pinpoint user, Rosemary Smith & Co has access to the supporting interactive legal accounts and practice management software.
"Instead of our former time recording software, we now utilise the interactive system", states Helen. "As well as privately funded work, we also offer legal aid representation. It really helps that the time recording functionality supports all rates and attendance codes, including those stipulated by the Legal Aid Agency. But it's much more than just a time recording application. It caters for all elements of practice management and we find it a godsend when generating bills as it automatically draws the necessary financials together".
Reinforcing her opening sentiments, Helen concludes by commenting on "endorsements being the best form of marketing for any company because they're real-life anecdotes of its product or service's success. I freely recommend Quill's outsourced support services to other legal providers".