ILFM Conference 2017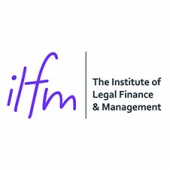 Friday 24th November 2017 @ The Law Society, London
For more information and to book please follow this link: https://www.eventbrite.co.uk/e/ilfm-conference-2017-tickets-36058131843
The Institute's annual one-day conference and networking event will take place at The Law Society in London on Friday 24 November 2017.
Our aim is for the conference to bring together a variety of professionals who recognise the importance and share the views of legal finance. The day will give you the opportunity to connect, to be inspired and to find answers to the daily challenges you face. Whether you are supporting your firm and its COFA or leading the way as a practice manager, the Institute's conference will give you what you need to perform your job efficiently.

You will hear about the new SRA Accounts Rules and how the changes to the Accounts Rules will affect firms, clients and your roles. Our conference will be informative and engaging for all members, especially for those with the pivotal gatekeeping role of legal cashier or for those COFAs and practice managers, who are the lynchpin of financial governance.
The COFA's role has demonstrated how critical legal finance compliance is, so we will also examine the impact of the changes on COFAs and the industry as a whole.
There will be expert views from Reporting Accountants: these will include the main pitfalls and risks of protecting client monies and how the new principle based rules will change their approach. You will also get to meet and hear from our CEO, Tim Kidd.
Our prestigious line-up of speakers includes:
Luan de Burgh, Business Communication Expert. Luan de Burgh is a recognised business communication expert who regularly addresses audiences around the world on the art of public speaking, impact and presence and the most effective ways to develop business relationships. Luan will be speaking on Impact and Presence - We live in a world where first impressions and positive impact are crucial to making a difference. Luan demonstrates how to have presence, influence others and be the best you can be.
Andrew Harris Partner, Hazlewoods and Ian Johnson Director, Crowe Clark Whitehill.
SRA Director of Regulatory Policy, Chris Handford, will take the opportunity to talk about the latest SRA Handbook consultations and changes already implemented, and how the SRA is progressing with its "looking to the future" theme.
Chris Fawcett, Fraud Risk Manager, Lloyds Banking Group, will be presenting on the latest from the banks on Cybercrime & Fraud, and practical ways Law Firms can protect themselves. "Payment Related Fraud – Awareness & Guidance"
In addition Gabriel Voisin, Partner from Bird & Bird, will shed some light on the new GDPR Data protection rules coming into force May 2018 and how legal firms need to prepare themselves .
Amy Bell Director, Amy Bell Compliance, Anti Money Laundering rules update.
We continue to support the "It's not just peanuts" campaign and will be welcoming the Access to Justice Foundation to update us on their great work and news of a substantial donation received as a result of last year's conference.
There will be an opportunity to ask questions of our Expert Panel, which will consist of the speakers and Institute members. You can submit them before the conference or ask them on the day.
After the conference, we shall hold an informal networking drinks event. You can have a much-deserved drink and can take the opportunity to discuss, exchange and share your views and knowledge with your peers, speakers, the Institute Executive Council members and our CEO.
For more information and to book please follow this link https://www.eventbrite.co.uk/e/ilfm-conference-2017-tickets-36058131843