Adoption of 3E and Elite's Enterprise business management solution continues to gain ground worldwide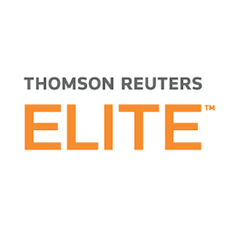 The close of this year's Thomson Reuters VANTAGE 2016 conference in Nashville also marks a tremendous period of growth and momentum for the adoption of a number of offerings within Elite's Enterprise Business Management Solution.
To date, more than 170 law firms worldwide have now selected the market-leading 3E financial and practice management system from Thomson Reuters Elite, with more than 61% of firms already live on the system. An additional 31 firms are expected to go live on 3E before the end of the year.
In just the past several weeks alone, a number of firms have gone live on 3E including:
Stinson Leonard Street, which has 13 offices in the US;
UK-based McMillan Williams Solicitors, which has also adopted MatterSphere across its 20 offices;
Robins Kaplan, one of the top trial law firms in the US with 220 lawyers across six cities; and
Cravath, Swaine & Moore, which has been one of the premier US law firms for nearly two centuries.
Overall, almost a third of Global 100 law firms – together representing combined annual revenue in excess of $27bn – have selected or are already using Elite's 3E solution. A number of firms which have selected 3E are transitioning from Elite's legacy Enterprise solution, including a total of 28 firms in the last two years alone. Altogether, approximately 34% of current 3E customers have migrated from Enterprise.
A number of other Thomson Reuters Elite solutions also continue to gain significant ground in the marketplace, including eBillingHub. Since its launch in 2008, eBillingHub has processed more than 13.5m e-bills worth more than $250bn for law firms around the globe. Data shows that firms adopting eBillingHub have improved payment speed by an average of 14 days and raised their collection realization rate by an average of 1.5%, representing more than $1m of top-line impact for the average AmLaw100 firm. More widely, 65% of the AmLaw 200 use an Elite financial management solution, and 89% of AmLaw firms utilize at least one of Elite's wider portfolio of Enterprise Business Management Solutions.
"Global uptake of our 3E platform, alongside a number of other market-leading solutions, has been exceptional, and we are delighted to have reached this important milestone," said Elisabet Hardy, vice president of Product Management at Thomson Reuters Elite. "With more and more organizations lining up to go live with 3E in the months ahead as well as adopting a number of our wider range of products and solutions, we're extremely excited about what the future holds and continuing our upward trajectory."