Support roles in top 100 law firms more mature and more mobile than ever

Overview
The role of FD in the top 100 law firms is the most traditional of roles - but this could be about to change. Finance directors are the longest-serving on average of three of the key support areas (Human Resources, Information Technology & Finance) at nine years service, but there are definite signs that the title is becoming a much more mobile one. The last two-year period shows the highest number of moves into FD-level roles in the top 100 firms in 20 years. Combine this with the fact that it doesn't look like the downturn is affecting FD hires - who wouldn't want a better numbers person on board now? Research seems to show that firms are now grabbing good talent from outside and developing good FDs in-house. That can't be bad. However, FDs are overwhelmingly male, with the top 25 law firms having only two women as head of finance among them. Will a possible increase in mobility and the number of non-law firm FD moves into the sector change this? Time will tell.
Job mobility and title-holder background Finance directors are long-serving (nine years in post on average, with the longest-serving FD in the top 100 in post for a whopping 33 years) and possibly the most traditional 'titles' in the business bar partners, and the most accepted: not a single firm in the top 100 reported that the role of finance director or equivalent 'does not exist', whereas six law firms report they've no IT chief, and eight law firms do without a dedicated head of HR.
"I don't think we can get away from the fact that the finance role is still (unfairly) a male domain. Whatever the reasons (glass ceilings, maternity, old boys network, perception), women still do not get a fair crack of the whip." Richard Williams, Finance Director - LG
The research shows that the split in terms of background (from law firms/from non-law firms) is overall weighted in favour of non-law (41%/59%) - and unlike the other titles, this is pretty indicative of the current trend, but not of the decade's trend. FDs have come more from law firms in every two-year period over the last 10 years but in the last two years this has flipped, and the swing has been large. Since 2004 the number of moves in this title area into law firms from non-law firms has been swinging up, but the period 2008-09 - don't forget this year's not over yet - has seen a near 50% uptick in moves (16) on 2006-07 (11), and non-law firm entrants make up nearly two third (62.5%) of those moves (10 out of the 16 moves). So the overall weighting of law/non-law background entrants to the FD space really does seem to match the current trend in moves.
Tim Salmon, chief operating officer at McGrigors: "It is difficult to tell whether there really is a 'trend' but there has certainly been more new blood into the financial leadership of the legal profession over the last few years. But much of that is now 'cycling' around law firms and may give rise to a distorted view. While there are one or two celebrated successes there have apparently been some major failures too. "There is no doubt in my mind that law firms appreciate the additional skills they can obtain by going outside the law but not necessarily to someone untested in the legal (or partnership) model. There is, now, quite a large group of individuals with outside experience but who also have law firm experience and I suspect they are likely to circulate around the law firms for a while before there's a 'need' for a new influx of talent - on the basis that they will be perceived to have the necessary skills and be lower risk."
"There remain seriously large barriers to entry for those without a background in law firms (or at least partnerships/LLPs, such as accounting, actuarial, surveyors, etc). This is as much down to the difficulties of "herding cats" as to the challenges of implementing change in organisations that have as many "chief executives" as they have partners. "Law firms remain viewed as highly political businesses - unfairly, I think - by many outside and with these issues, putting oneself forward for a law firm management role from outside is often seen as high risk." That's not quite the attractive prospect a law firm might seem to outsiders, then, especially when, as Tim says, "the nature of the FD's job will see him/her in regular discussions with partners, sometimes difficult discussions. There is a remarkably high incidence of so called 'relationship breakdown' used to describe the reasons for changes in FDs, perhaps at least in part as a result."
But Richard Williams, finance director for LG, reckons the trend towards more non-law backgrounds is there. "FD skills are now deemed to be extremely portable (my CV includes accountancy, television, global telecoms, actuarial and now law) across the board. Now that law firms are becoming alive to this portability, I think that this will become a very common trend. It is also interesting to note that in my recruitment, most other applicants were from law-firm backgrounds but comments made included "we want a breath of fresh air from outside the industry" and "we are looking for someone to bring experience of commerciality from other sectors." "I do agree that this is the trend and I don't think necessarily it's the FD market that's ripe for a change but more the legal sector. The FD market started to change about 10 years ago, though I do think that traditional law firm FDs are either going to need to adapt or they will face challenges from outside the law arena. I absolutely believe that this is a good thing and indeed a necessary thing if law firms are going to survive a more competitive market." In terms of FD becoming more mobile, it's hard to argue with the numbers - the decade on decade numbers also indicate that it's become more mobile over time.
2000-2009: 51 moves (law 29: non-law 27) 1990-1999: 38 moves (law 17: non-law 27)
The downturn really doesn't seem to have affected FD moves - and FDs say that now, more than ever, a law firm needs a 'money man' in the bean counting office. Williams says he "absolutely agrees" with what this data shows. "I also expect that this will tie in with a 'shortening of tenure' and an increasingly healthy competition between law firms. "It's times like these when a law firm wants its traditional numbers man - one that can safeguard the finances, drill into working capital and report and analyse in an effective and efficient manner, so I am a little surprised that the trend [for outsiders] has continued throughout 2009. I suppose that this reflects a continued desire to use the downturn for change (out with the old, etc.) and a view that firms need 'to do something different' to survive." "I think the 'non-law firm' FD moves have been a long time coming and they are most definitely here to stay - the legal sector is behind the curve but they're catching up. "Realisation has dawned that commerciality (and with it a broad appreciation of clients and the financial world) is paramount to the FD role and to survive, law firms must embrace that commerciality and then harness it more successfully that those in the Accountancy practices etc. Time will tell whether the Legal Services Act will get the full adoption needed to drag the legal sector into the new world. I hope it does. What I guarantee is that if the sector is opened up to Private Equity and ABSs, the flood of interest from non-law firm professionals will be very large indeed."
Gender in the role
The FD title sector is the worst performer in terms of gender - it has the lowest number of women in the top 100 firms, with a woeful score in the top 25: just two. This is the inverse of the IT director spread: though female IT heads only number 15% of the top 100, the bulk of those female IT directors are in the top 25 firms. The FD role has the lowest number of women in the top 100 at just 12%.
"I believe firms still see the FD as the 'super' support role, and very often the 'narrow' title fails to reflect the fact that the FD has many wider responsibilities - facilities, IT, HR, training and others." Tim Salmon, Chief Operating Officer - McGrigors
So if this relatively stable environment could be at a tipping point in terms of mobility and background, then could this split also be about to change? Salmon says this is likely down to received wisdom: "I think this is reflective of the expectations organisations have of the 'finance director' regardless of title and what that often entails in terms of working hours and lack of work/life balance which is difficult to reconcile against traditional family pressures. "The comparison between finance and IT is, I agree, very odd, particularly in the top 25, but I would regard it as dangerous to draw too much inference. We're not talking about a particularly large population and one or two individuals with particular characteristics may be causing a "bias" in the figures." Firms may now need a numbers man more than ever - sadly for women, however, it's quite likely to be a man.
Richard Williams: "I don't think we can get away from the fact that the finance role is still (unfairly) a male domain. Whatever the reasons (glass ceilings, maternity, old boys network, perception), women still do not get a fair crack of the whip." Williams points out that of the FTSE 100, only four FDs are female, so it's not just law that's doing badly.
What's in a name?
FD is the area with the least spread of job titles: 59% of respondents are called FD or director of finance, which is exactly the same - 65% if you include "director of finance and facilities". The next highest-ranking title is CFO - 10% of FDs are in a 'C-level' title - which is far higher than the other titles in this research and in fact higher than both the others put together.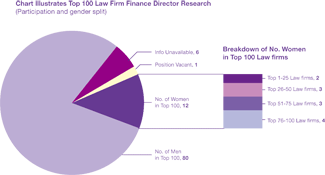 FD also as by far the lowest number of non-director titles in the mix: only six, compared to 18 on HR and 35 for IT. So it would appear FDs are more institutionally respected as a position and that they are leading the charge on bringing corporate titles into top law firms.
This is not the whole story, however, as Salmon explains: "You're right about the institutional respect, although that doesn't mean it's always deserved. It's a bit of a generalisation, but I'd say it's still rare to find the 'director' badge applied to anyone else, or indeed to find any other functional heads - HR or IT, for example - sitting on the board where one will regularly (but not always) find the FD. The 'odd one out' is sometimes the head of business development, who is summoned to board meetings to explain why the firm hasn't won any new clients lately! "I believe firms still see the FD as the 'super' support role, and very often the 'narrow' title fails to reflect the fact that the FD has many wider responsibilities - facilities, IT, HR, training and others. "But there remains substantial inconsistency between firms, not as to titles so much as the roles themselves and the expectations thereof. Compare a finance director in a firm that has a 'finance partner' on the board with the role of a financial controller, whose direct reporting line is to the managing partner. Responsibilities could very easily be significantly higher for the latter." It's high time law changed with the times in this regard, says Williams: "Law firms appear to be the last ones to the party in this particular area. The role of the FD generally in business shifted some time ago from the traditional 'keeper of the finances and safe-guarder of the assets' role that all accountants grew up expecting their careers to move into. "For many years the role of the FD has gravitated towards a COO role, where the expectations of the senior management have been that the FD is the trusted advisor or 'right-hand man'. Indeed this is so much so that the CFO role is spoken about less and less, as it is effectively the COO role.
"But, in the end, these are all just titles. The fact remains that since I have been in any 'senior' finance position, the expectations of me (and indeed of my peers) has always been to have a broad understanding of IT, HR, marketing, IR and facilities management and to be the person that the managing partner, senior partner or indeed the board come to for advice. "I am amazed to still hear of fee-earning partners being 'heads of finance' - to me, that shows some law firms are still well behind the curve." But, says Williams, FDs do still win the lion's share of lawyer respect, and this will only improve as more FDs are brought across from business. "Law Firms will naturally become more corporate (the move from partnership to LLP for many was the start to this process) as they become more commercial and competitive - they need to. Now is the time to adapt and grow or the market (and competitors) will leave them behind - interestingly, I think the level of mergers in the industry will start to rise as the weaker Firms fall away from the pack and start to get picked off."
For the detailed analysis of the research and a pdf download of the results, please go to the top 100 finance directors page.