Thomson Reuters Elite announced that Xcelerate Budgeting and Forecasting continues to see significant growth worldwide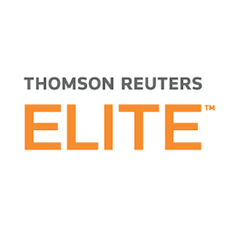 Thomson Reuters Elite, part of the Legal business of Thomson Reuters, announced that the number of firms adopting Xcelerate Budgeting and Forecasting has now surpassed more than 100 worldwide. This milestone underscores growing utilization of Xcelerate to provide real-time insights into their firms' revenue and expense budgets, forecasts, and other key targets, making it the best choice for firms who utilize the 3E® Enterprise Business Management Solution.
Powered by Thomson Reuters Elite partner OLAP Vision, Xcelerate is the only Microsoft® Excel® and web-based budgeting and forecasting application built specifically for legal and professional services, and it is a key first step for many clients making the transition from Enterprise to 3E.
Aside from continued growth in North America, Xcelerate has seen a large uptick in sales across the Asia Pacific and EMEA regions, including a tripling of the number of customers in EMEA alone in 2017. Overall, the number of 3E and Xcelerate-bundled deals has increased more than 400% in the last 3 years.
More than 70% of clients that rely on Xcelerate to review their productivity and profitability are within the Am Law 200, with more than 30 firms belonging to the Am Law 100. Xcelerate also counts among its clients 7 top global law firms that generate annual revenues in excess of $1 billion.
Firms utilizing Xcelerate are able to capitalize on a number of key benefits to the solution, including rapid installations and exceptionally quick time to value. This enables clients to see an immediate return on their investment, such as the ROI experienced by leading Australian law firm Colin Biggers & Paisley.
Xcelerate Budgeting and Forecasting is a web- and Microsoft Excel-based solution for the budgeting and forecasting of operating expenses, fee earner revenue, employee compensation, and capital expenditures. Xcelerate integrates with 3E and Enterprise and quickly plugs into human resources and payroll systems to push global assumptions from a firm-wide level down to the individual fee earners and employees. Dashboards provide a single view into firm performance with drill-down capabilities and real-time alerts to help protect profits and plan with greater confidence. For more information, visit Xcelerate.