Thomson Reuters Elite client Bryan Cave modernises technology with 3E upgrade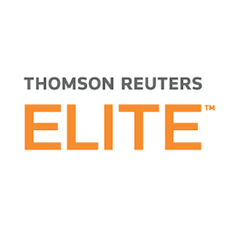 Thomson Reuters Elite, part of Thomson Reuters Legal, today announced that leading global law firm Bryan Cave has decided to transition from Enterprise to 3E in order to modernise its practice and financial management technology with enhanced functionality. With approximately 1,000 lawyers operating in 27 offices throughout North America, Europe, and Asia, Bryan Cave can leverage the scalability and flexibility of 3E to meet global business requirements. 3E is an integral component of the Elite Enterprise Business Management Solution, with robust workflow and automation capabilities and a scalable foundation built to help firms manage all operational aspects of their businesses.
Michael Stolte, chief financial officer for Bryan Cave commented, "We've had 3E on our radar for quite some time, and after much consideration we have determined that now is the time to move forward from Enterprise and upgrade to a superior solution. 3E presents an enormous advance in technology, but the trust we have established after working with Elite for more than a decade gives us the utmost confidence in this decision."
For a global firm like Bryan Cave, 3E offers a unique benefit with the capability to enable firms to meet statutory requirements for each country of operation, making workflows more efficient and data consistent. Built-in language and currency capabilities make it easier to deliver information that is easily understood by each user, regardless of their region.
The firm also selected 3E for enhanced reporting capabilities and a more user-friendly desktop experience. Once implemented, the firm's decision makers will conduct a review of all areas of financial management to determine the optimal use of the solution for long-term benefit.
"After a carefully calculated evaluation, we are pleased that Bryan Cave made the decision to advance its core technology with 3E, and we are looking forward to working together for many more years to come," said Elisabet Hardy, vice president of Product Management at Elite. "As the time comes for firms to either choose between upgrading existing Enterprise systems and investing in futureproof technology from Elite, it becomes clear that the powerful and scalable 3E solution is the best option to adapt to changing business requirements well into the future."
3E offers powerful core financial and practice management features and built-in application development capabilities, all seamlessly integrated into one high-performance system. Designed from the ground up on Microsoft.NET, 3E provides an integrated development environment that enables firms to become more agile in responding to client needs. In addition, built-in metrics, analytics, and reporting tools provide constant feedback and effective performance management. A full suite of capabilities is delivered through a consistent Web-based user experience that allows lawyers and staff to easily track and manage activity on a multi-office, global scale. Visit 3E for more information.