Thomson Reuters Elite expands partnership with Helm360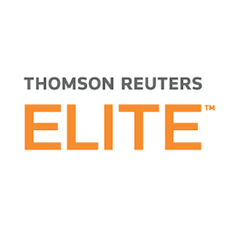 Thomson Reuters Elite, part of the Legal Professionals division of Thomson Reuters, today announced an expansion of its strategic partnership with Helm360, a global provider of innovative data-driven business intelligence products and implementation services to law firms. Already an Implementation Partner for both 3E® and ProLaw®, Helm360 will now be a Product Partner, offering Termi, its market-leading AI-based BI chatbot solution to ProLaw customers.
Termi is an intuitive solution to one of the biggest pain points for law firms – generating custom reports with ease and accuracy. Termi was developed to simplify interaction with data and increase productivity. By providing ProLaw customers with robust reporting and business intelligence capabilities via interactive chatbot technology, Termi makes report generation easy and seamless. It includes a wide range of out-of-the-box features that can be easily customized, as well as an extensive library of KPI's and dashboards aimed to simplify reporting, management, and budget tracking.
Elite offers four categories of partnerships, mutually beneficial relationships that play an integral role in the legal practice management ecosystem. Implementation Partners are focused on helping individual customers with services work, while Product Partners engage in a software reseller or referral arrangement with Elite.
Alongside this new BI Product Partnership, Elite customers can continue to take advantage of the full range of implementation services Helm360 offers for both ProLaw and 3E, including project management, business consulting, testing/QA, technical consulting, custom development, and data migration. The Helm360 team provides expert advice and consulting services, enabling Elite customers to efficiently implement these solutions, directly reducing risk and avoiding the common pitfalls of implementing legal software.
The Thomson Reuters Elite Partner Program provides a one-stop global marketplace that fosters cooperation, streamlines the buy-sell cycle, and helps all involved achieve a competitive edge. Elite partners are experienced technology, services, and consulting organizations ready to innovate, collaborate, and help our clients solve their most pressing business challenges. For more information, visit the Thomson Reuters Elite Partner Program.
Helm360 is a division of California Creative Solutions, Inc. Established as a global technology company in 1997, with multiple offices across the globe and 350+ employees, Helm360 offers innovative products and consulting services to the legal industry.