Thomson Reuters Elite partners with MHR International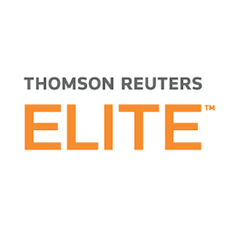 Thomson Reuters Elite, part of the Legal Professionals division of Thomson Reuters, today announced a new Technology Partnership with MHR International, a global software and consultancy company specializing in HR, payroll, employee experience, data analytics, and artificial intelligence services. The partnership will benefit users of 3E®, the market-leading enterprise business management solution from Elite.
With more than 1,000 customers across a range of industries and a team of more than 700 professionals worldwide, MHR International is a leader in HR software and outsourcing services. Its award-winning portfolio of solutions includes iTrent, software that simplifies HR processes, removes administrative burdens, and cuts operational costs while recruiting, developing, and retaining top talent. It is trusted by firms across the legal industry.
This new Technology Partnership, which creates a seamless integration between 3E and iTrent, will ensure an efficient, automated, and accurate data flow between systems. This integration will benefit law firms by ensuring them ease of implementation as well as streamlined, organised, and effective functionality.
One of four partner categories with Elite, Technology Partnerships are mutually beneficial relationships that play an integral role in the legal practice management ecosystem. They provide critical technology that improves Elite offerings, including product integrations.
The Thomson Reuters Elite Partner Program connects Elite valued clients with expert technology, services, and consulting organizations that represent dozens of major brands that complement Elite business management solutions. The Elite Partner Program provides a one-stop global marketplace that fosters cooperation, streamlines the buy-sell cycle, and helps all involved achieve a competitive edge. Elite partners are ready to innovate and collaborate with Elite clients to meet their technology needs head-on. For more information, visit the Thomson Reuters Elite Partner Program.
3E from Thomson Reuters Elite offers an end-to-end enterprise business management solution that allows law firms and professional services organizations to run all operational aspects of their business. Designed from the ground up on Microsoft® .NET, 3E offers built-in application development capabilities. Why does it matter? The unique architecture enables firms to become more agile, lawyers to quickly respond to client needs, and staff to easily track and manage activity on any scale—from single-office to multi-office and multinational. 3E is the next-generation technology that can help firms improve efficiency, increase profitability, and confidently take on a future without limitations. For more information, visit 3E.
MHR International Group is a global software and consultancy company specialising in HR, payroll, employee engagement, analytics and artificial intelligence services. We are an independently owned company headquartered in the UK but with operations across the world. Established in 1984 we now employ more than 700 people globally and have been developing and implementing our solutions for over 35 years. We continue to invest in research and development to ensure we deliver the latest technology and services to our customers.
Our product portfolios include iTrent, People First, Talksuite and MHR Analytics, which we provide alongside a number of partners to deliver consultancy, business intelligence and analytics solutions. More than 1,000 companies from SMEs to large multi-national corporates work with us to help them maximise employee engagement, generate better insights from their data and improve operational efficiencies. Customers include Hugh James, Admiral, Swinton Insurance, Jupiter Asset Management, Turner & Townsend and more.