Elite's future? Workspace on desktops and mobiles - Mike Walker, chief software architect for Elite

It look's like you don't have Adobe Flash Player installed. Get it now.
Podcast Length: 12mins 37secs
Now that Thomson Reuters Elite has bought so many complementary legal software solutions, how will it put them in front of users in an integrated way? The answer: a mash-up.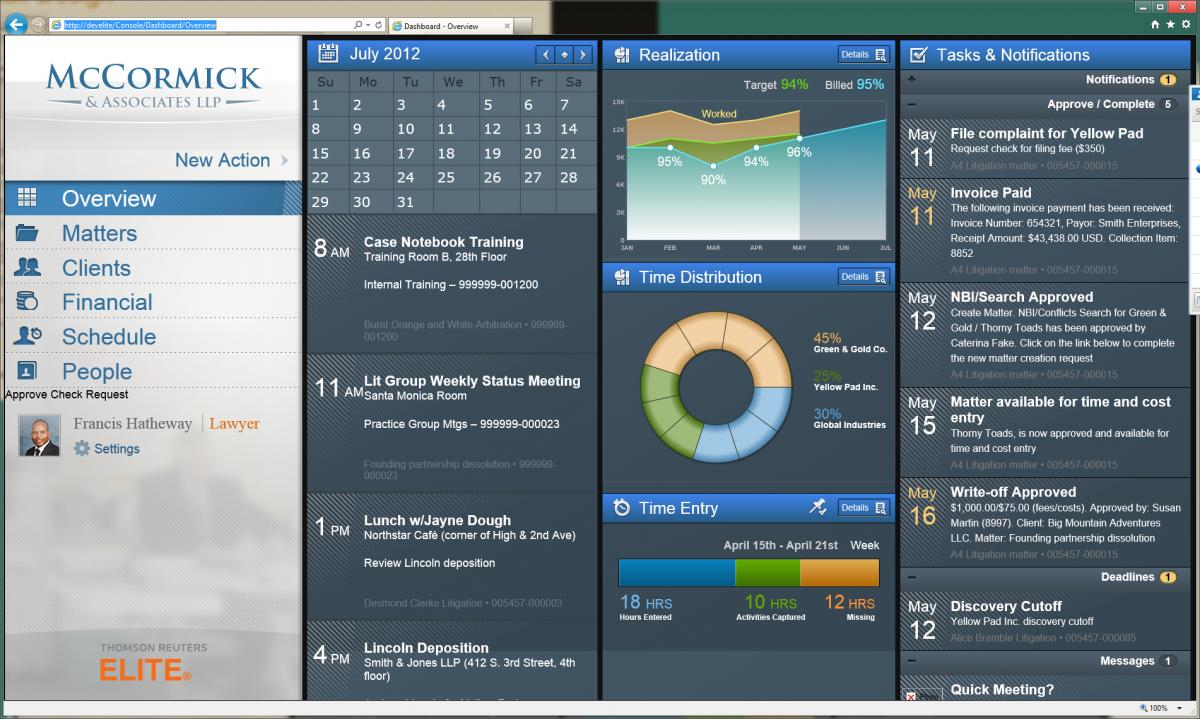 Workspace is the way Mike Walker, chief software architect for Elite, says users will in future experience all Elite solutions, at least most of the time. It will also be the way you use Elite on any mobile device, and will let you do things with your iPad far beyond just viewing your information...
In this podcast interview, LSN's Rupert White talks to Elite's chief software architect Mike Walker at Elite's Las Vegas global user conference about why the company created Workspace, a kind of dashboard to see and act on all the information behind the panoply of Elite software - Engage, eBillinghub, MatterSphere, Hubbard One and more - and how making it work on mobile devices made him want to do more than just give people access to information on their iPads.
Elite have asked LSN to make it clear that the screen shot of Workspace is "an early prototype of the Elite Workspace, as seen by attendees at the Elite User Conference, and will go through further iterations before coming to market".
TIPS FOR LISTENING
There are several ways to listen to this podcast:
1) Listen right now: Simply click on the play arrow above to listen to the podcast immediately. If you can't hear anything, check first that your speakers are on or headphones are plugged in...
2) Download the MP3 file: Clicking on 'Download MP3' button on the right hands side below this text will let you save the file to your computer.
QUESTIONS
If you have any questions about this podcast and how to listen or download it, please get in touch with the LSN team.