Briefing on: cloud and outsourced IT for law firms | Interview with David Bason of Shoosmiths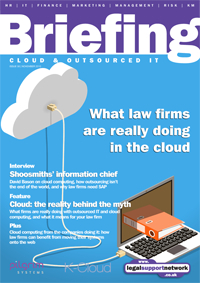 Briefing - the best and only legal business services magazine
Covering the key business issues facing law firms, Briefing talks to everyone in business services and support about what's important to them in their careers in law firms.
Briefing on cloud and outsourced IT in law firms
Featuring an exclusive interview with Shoosmiths' director of IS, David Bason, this month's Briefing finds the reality behind the hype around cloud computing. Briefing looks at what law firms are really doing in the cloud, how they can benefit from outsourced and managed services and how they can save firms money.
Inside this month's issue:
Exclusive interview: David Bason, IS director at Shoosmiths, on using cloud IT and outsourced services to deliver more client value for less – and why SAP is the future for Shoosmiths
Feature: Joanna Goodman peers under the myths around cloud computing and discovers what law firms are really doing with it, why, and what it can really do
Analysis: Issue sponsors Pilgrim Systems and K-Cloud outline the advantages behind using managed services and cloud IT to reduce administration on IT without losing control or capability
Case study: How a Bristol niche commercial firm has put almost everything into the cloud to get as close as it can to its clients, using Virtual Practices
Download your copy now for FREE
Download the Briefing media pack