Briefing on: Competitiveness and the Legal Services Act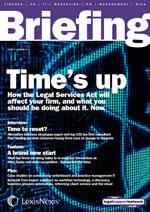 Covering the key business issues facing law firms, Briefing talks to everyone in business services and support about what's important to them in their careers in law firms.
Briefing on: Competitiveness and the Legal Services Act
The Legal Services Act is upon us, ABSs will be here in 2012 and big business wants a slice of the legal market. A big slice.
This issue of Briefing analyses what law firms outside the top tier should be doing to compete with a new breed of competitor, which firms will be threatened and how they should be thinking about their future.
This issue's in-depth, independent editorial:
Exclusive interview: ABS and LSA consultant and commercial law firm veteran Paul Harding
Paul Harding, a commercial lawyer, partner, consultant at Clyde & Co and LSA and ABS expert, talks to Briefing about what the mid-tier and below should be doing to re-engineer itself before it's left out in the cold.
Independent feature: End of the line, or a brand new start?
When the LSA kicks in, the smaller firms will be most threatened. Grania Langdon-Down talks to those firms about what they're doing to fight back, from outsourcing and restructuring to more management.
Plus: expert supplier analysis and cases studies
Expert input from legal suppliers, including our issue sponsor LexisNexis, on what firms can do in the real world, from outsourcing to reforming client service, from business process outsourcing to e-discovery and the cloud. Includes cases studies on Nabarro and DWF.
Download your copy now for FREE
Download the Briefing media pack