Briefing on: Finance management in 2013

Can finance save the law firm?
It's not lawyers who will make or break tomorrow's law firm – especially not the big firms. It's management, and above all (possibly) the finance function.
That's because finding untapped revenue and profitability, managing legal work a lot better, and being able to see things from the client's perspective are probably all skills that lie in management – not lawyering.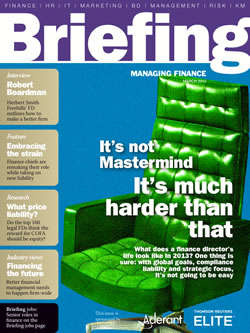 (This is a 12MB file so you might want to right-click and 'save as')
What's in this issue?
Interview: This month, Rupert White talks to Robert Boardman, FD for almost all of the relatively freshly minted Herbert Smith Freehills. He is someone who came to the legal business after the downturn, someone who'd never known the 'good old days':
Feature: analysing the role of the FD now that the COFA regime is here, including interviews with FDs at Berrymans Lace Mawer, Burges Salmon, Nabarro, Shoosmiths, SJ Berwin, Weightmans and a mystery top 15 firm.
Plus: As part of our Top 100 Finance Director research, sponsored by Thomson Reuters Elite, we find out whether FDs think they should have equity status in light of the COFA changes; we have a case study and an interview with issue sponsors Aderant and Thomson Reuters Elite – plus case studies and analysis from leading suppliers.
(This is a 12MB file so you might want to right-click and 'save as')
Sign up to receive Briefing every month
>> Missed an issue of Briefing? Download them now
Visit the Briefing home page where you can download all our back issues.
Download the Briefing media pack to find out how you can be involved in Briefing's future.
Any problems?
Having problems downloading Briefing? Email David or email Stella and we'll email you a copy instead.