Briefing on: HR, an L&D special - Training Generation Y | Interview: Jonathan Bond, Pinsent Masons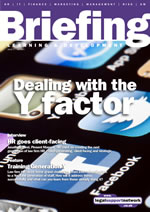 Covering the key business issues facing law firms, Briefing talks to everyone in business services and support about what's important to them in their careers in law firms.
Briefing on: HR - challenges after the recession, and training the YouTube generation
What challenges face law firm HR departments now that the recession is passing behind us?
How are firms training the future managers and law firm leaders?
And who will those future leaders be, and what do they want that's different to past generations?
This issue of Briefing on HR, an L&D special, brings you the answers to these and much more.
This issue's in-depth, independent editorial:
Exclusive interview with Jonathan Bond, director of HR and learning at Pinsent Masons, all about staffing tomorrow's firm, and how to turn HR into a revenue-generating, client-focused department.
Feature: Training Generation Y, in which journalist and employment lawyer Polly Botsford looks at the challenges facing law firm HR in a more competitive, homogeneous and internationalised future – one that contains a very different kind of employee.
Download your copy now for FREE
Download the Briefing media pack