Briefing on: Human capital management

Briefing on: Human capital management
This month, we look at the changing role of legal HR, and how HR can be part of a law firm's strategic direction when facing the challenges posed by the 'new normal'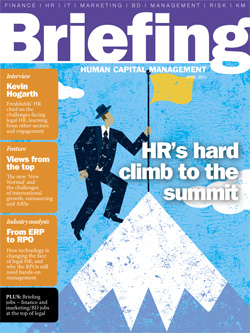 Interview: Kevin Hogarth, global HR director for Freshfields Bruckhaus Deringer - Rupert White talks to Freshfields' global HR chief about the challenges facing legal HR, learning lessons in resourcing from other sectors and the value of engagement.
Feature: What the 'new normal' has turned into - how legal HR must reform itself while it reforms legal business, and the challenges of international growth, outsourcing and alternative business structures - including interviews with HR leaders at Eversheds, Hill Dickinson, Irwin Mitchell, Bird & Bird and Ince & Co.
Plus: Industry analysis on how enterprise resource planning can help HR deliver time-saving workflows in tomorrow's legal business, why insourcing recruitment with RPOs needs careful management to work well with outside agencies, and how HR technologies can help improve HR management.
Sign up to receive Briefing every month
>> Missed an issue of Briefing? Download them now
Visit the Briefing home page where you can download all our back issues.
>> Opportunities to be involved in Briefing
Download the Briefing media pack to find out how you can be involved in Briefing's future.
Any problems?
Having problems downloading Briefing? Email David or email Sarah and we'll email you a copy instead.