Briefing on Legal Services Reform | Issue 4 | Interview: Professor Stephen Mayson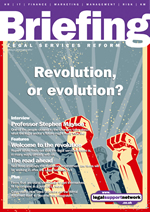 Briefing - legalsupportnetwork.co.uk's new e-zine
Covering the key business issues facing law firms, Briefing talks to everyone in business services and support about what's important to them in their careers in law firms.
Briefing issue 4 - all about Legal Services Reform
Exclusive, in-depth interview with Professor Stephen Mayson, about what the legal sector's future might really look like.
Feature article - Rupert White finds out that the legal services future is, in many ways, already with us.
Analysis - Neil Rose analyses the regulatory environment law firms will be working in after the Legal Services Act.
Case Study - Eclipse Legal Systems helps us look at how Lees Solicitors on the Wirral reformed itself to become fully integrated.
Analysis- David McNamara of Solicitors Own Software looks at firms that are using technology to get themselves fit to compete in a post 2011 world.
Download your copy now for FREE
Download the Briefing media pack