Briefing on: Legal technology | Interview with Jan Durant of Lewis Silkin | Plus A&O, BLP and more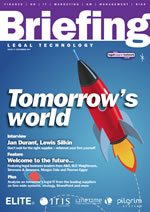 Covering the key business issues facing law firms, Briefing talks to everyone in business services and support about what's important to them in their careers in law firms.
Briefing on: Legal technology futures
Practice management technology is changing - and it now encompasses everything from case management to customer relationships, from workflow to HR. What does the legal IT of tomorrow's firm look like - and what should you be doing with it?
Exclusive independent interview:
Lewis Silkin's IT chief, Jan Durant
Rupert White talks to Jan Durant about the role of the IT director in tomorrow's successful firms, making a better firm-wide IT system, why SharePoint will take over the world, and how workflows can save your firm a fortune.
Independent feature:
Welcome to the future... of legal IT
Joanna Goodman gazes into her crystal ball to analyse the legal IT hot topics in 2012. Will iPads change the game? Are firms moving towards enterprise-wide resource planning IT systems? And what will tomorrow's firm look like in terms of technology?
Includes interviews with IT leaders from A&O, BLP, Weightmans, Simmons & Simmons, Morgan Cole and Thomas Eggar
Plus - why Simmons & Simmons chose to move to Microsoft with the new firm on the block, Avanade.
Expert industry analysis - analysis from the technology companies making tomorrow's legal IT, including issue sponsors Elite, Linetime, Iris Legal Solutions and Pilgrim Systems.
Download your copy now for FREE
Download the Briefing media pack