Briefing - the LSN e-zine - issue one June 2010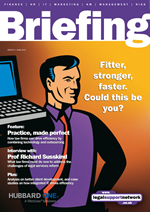 Briefing is legalsupportnetwork.co.uk's new e-zine
Covering the key business issues facing law firms, Briefing talks to everyone in business services and support about what's important to them in their careers in law firms.
Having problems downloading Briefing? Email David or email Sarah and we'll email you a copy instead.
What's in issue 1
Exclusive, in-depth interview with law firm process and strategy guru Professor Richard Susskind.
Feature article on how law firms can use outsourcing and technology to become more efficient and better, more client-focused businesses.
Analysis on improving and enabling client development from Hubbard One.
Case study interviews with real people in law firms who have improved efficiency and profitability at their firms about how they've done it.
Download your copy now for FREE
Download the Briefing media pack