Briefing on: Outsourcing | How the top 100 is changing as it adopts a new way of working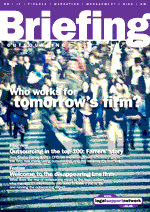 Covering the key business issues facing law firms, Briefing talks to everyone in business services and support about what's important to them in their careers in law firms.
Briefing on: Outsourcing - how it's changing the face of the top 100
Outsourcing's inexorable rise is having an increasing effect on the way top-100 firms are run, who works in them, who works for them and how much their work costs to deliver.
But what are the real benefits, and what are the real challenges?
This issue's in-depth, independent editorial:
Exclusive interview: Farrer & Co's chief financial officer, Sue Shale
Farrer & Co's financial chief talks to Rupert White about how the top law firms are turning to outsourcing to deliver efficiency gains and cost savings - including what her firm has learned in the process of outsourcing with some of the largest outsourcing providers, and how Farrers has shaved hundreds of thousands of pounds of its bottom line in the process.
Independent feature: Welcome to the disappearing law firm
Philip Hoult investigates the world of law firm outsourcing – where the value is, what the fears are and what firms of the future might look like.
Includes interviews with Sally King at SNR Denton, Tim Salmon at McGrigors, Bevan Brittan's CEO Andrew Manning, Thomas Eggar's Sarah Ball, ex-Integreon insider Chris Bull and Linklaters' COO, Alastair Mitchell.
Download your copy now for FREE
Download the Briefing media pack