Briefing on staffing and resourcing | Issue 3 | Interview: Jill King, Linklaters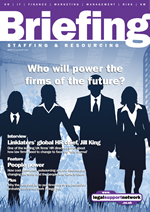 Briefing - legalsupportnetwork.co.uk's new e-zine
Covering the key business issues facing law firms, Briefing talks to everyone in business services and support about what's important to them in their careers in law firms.
Briefing issue 3 - all about staffing and resourcing tomorrow's firm
Exclusive, in-depth interview with Linklaters' global HR director, Jill King, about the challenges and opportunities in the market today.
Feature article - Rupert White asks who will be working for tomorrow's law firm, and if the legal staffing market has changed forever.
Analysis by Ambition recruitment on why the best talent in legal doesn't work there yet.
Download your copy now for FREE
Download the Briefing media pack