Briefing on: Strategic information and business intelligence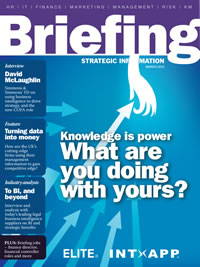 Briefing on: Strategic information and business inteliigence
This month we look at how advanced business information and analysis is changing the way the UK's top firms do business.
Interview: David McLaughlin at Simmons & Simmons - Rupert White talks to Simmons' finance director about applying the rules of big business to legal, why enterprise resource planning is perfect for legal, and the new COFA role in finance.
Feature: Turning information into money - Polly Botsford reports on firms using advanced information tools to get ahead of their rivals, and how get lawyers to actually use the analysis they have to do better business.
Plus:in-depth articles, interviews and cases studies in our industry analysis section - including an interview with Justin Farmer of Elite about why business intelligence should deliver usable information into people's hands, IntApp on how your firm might be throwing money away by not capturing its time, and analysis on why business intelligence is becoming vital for law firms that want to compete at the top of the market in 2012 and beyond.
Download your copy now for FREE
Download the Briefing media pack