Briefing on: Strategy - how law firms use strategic vision to succeed

Covering the key business issues facing law firms, Briefing talks to everyone in business services and support about what's important to them in their careers in law firms.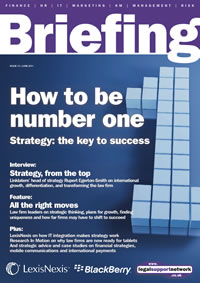 Briefing on: Strategy - how law firms use strategic vision to succeed
In the first-anniversary issue of Briefing, we interview the head of strategy at one of the world's biggest law firms and speak to CEOs, senior partners and law firm leaders about why strategy is so important – and how to get it right.
This issue's in-depth, independent editorial:
Exclusive interview: Linklaters' strategy chief
Rupert Egerton-Smith Linklaters' head of strategy and business transformation, talks to Briefing about changing the law firm, differentiation and creating successful law firm strategy.
Extended independent feature: All the right moves
Rupert White talks to law firm leaders about strategic thinking, international expansion, differentiation and how far firms may have to shift to succeed - we speak to top-100 law firm CEOs, a senior partner and an ex-managing partner to find out how they create and enact their strategies.
This issue's industry analysis and business success stories:
Strategic IT analysis from issue sponsors LexisNexis and Research In Motion, maker of the iconic BlackBerry.
Plus - case studies on global payments systems and mobile technology, and financial strategy advice from the finance sector.
Download your copy now for FREE
Download the Briefing media pack