Future focused: The OLIL 2013 report
A view into the future of legal business
When you put over 100 operational leaders from the top of the legal sector in a room, you can learn a lot about their business in a very short time. The trick is capturing that knowledge.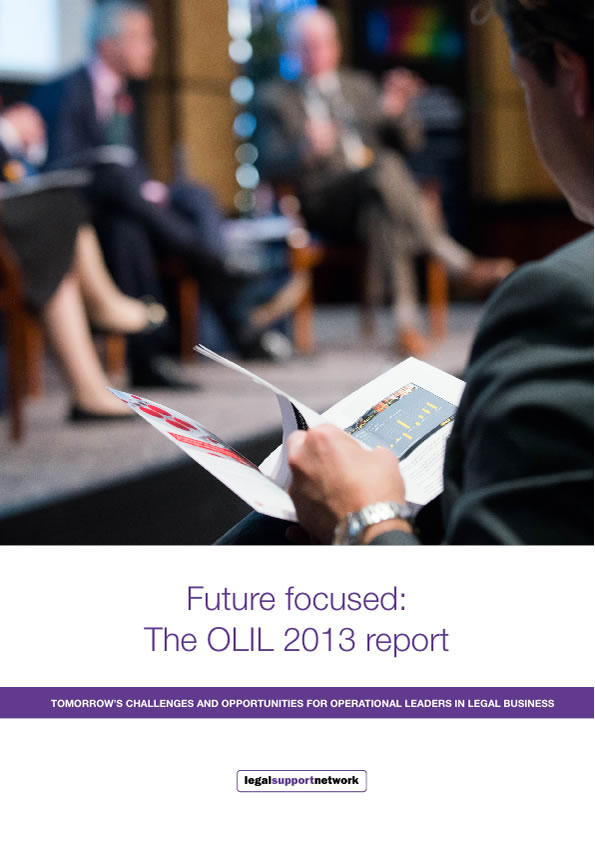 In November 2013 we ran our third annual Operational Leaders In Legal (OLIL) conference, in which panels and speakers shared knowledge with COOs and other directors and leaders in the UK top 100 and Am Law firms. Throughout the day we quizzed our audience using a live feedback tool, and the results were often surprising.
The current market mode in legal is 'times are still hard'. Top-tier legal businesses face a tough road of minimal market growth ahead, and that growth may lie in the new New World – the far east. Growth now, for the most part, is happening almost solely through M&A. And law firms are under great pressure from clients on cost.
Key findings from this insightful report include:
Operational leaders are upbeat about the economic outlook
A third of our legal business leaders said their mid-term international growth lies in Europe
Six out of 10 leaders said that, by 2023, the majority of their revenue will come from work delivered to clients in the home jurisdiction
Over half of the audience said that in the next five years their international growth lies in the Asia-Pac region
Just over half of the legal business leaders polled said they think that, by 2020 (just seven years away), the top firms might be up to 50% larger
Almost everyone at OLIL 2013 agreed that incentivising people and creating career paths in a more corporate, less partnership-focused future business was one of legal's biggest challenges
Over half of the audience said fixed-fee work accounted for under 30% of their firms' work
In sum, there's a huge amount of positivity and opportunity in the legal market at the top end – and the operational leaders in legal business are poised to be able to help drive their firms into a future that is more filled with opportunity than challenge.
Download the PDF above for more insights from OLIL 2013.