Briefing Operational Leaders In Legal 2017 conference – London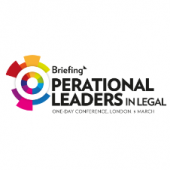 The only event to specifically target chief operating officers, business managers and others in operational leadership roles from large UK and international law firms, Briefing's Operational Leaders in Legal event returns in 2017 to enlighten, challenge and engage operational leaders by uncovering and discussing the issues they face in an increasingly challenging and fast-changing market.
Want to sponsor the next event? Get in touch

Law firm speakers at Briefing Operational Leaders In Legal 2017

> Andrew Darwin, COO, DLA Piper
> Mike Polson, co-head of innovation, Ashurst
> Darren Mitchell, deputy COO, Hogan Lovells
> Gavin Frost, head of commercial finance, Eversheds
> Ben McGuire, COO, innovation group, Simmons & Simmons
> Stephen Allen, global head of legal service delivery, Hogan Lovells
> Christina Blacklaws, COO, Cripps
> Joanna Lorimer, director of administration, Hunton & Williams
> Kevin Hogarth, global director of people and culture, Norton Rose Fulbright
> Stuart Whittle, IS and operations, director and partner, Weightmans
> Justin Young, COO, Holman Fenwick Willan

Panellists booked for the OLIL GC panel

> Richard Tapp, company secretary and director of legal services, Carillion
> Richard Keenan, chief counsel, major transactions team, BT Group
> David Bateson, chief of legal and intellectual property, Canon
> David Symonds, VP and regional general counsel EMEA, Johnson Controls (Tyco)
> Mohammed Ajaz, general counsel and head of professional services, National Grid

Experts and specialist speakers at Briefing OLIL 2017

> Carol Stubbings, joint global leader, people and organisation, PwC
> James Sproule, chief economist and director of policy, Institute of Directors
> James Endersby, managing director, Opinium
> Michelle Pattison, occupier advisory director, CBRE
> Abigail Hunt, consultant, facilitator and coach, Treehouse Innovation and Møller PSF Group

Interactive afternoon sessions headed up by:

> Chris Bull, executive director of Kingsmead Square, KPMG ambassador for the professional practices sector and ex-COO of Osborne Clarke, ex-global solutions group head for Integreon

Agenda highlights

> Operational management across multiple locations and teams: finding the right match, the right structure, for the right reasons
> Changing structures, rewards and goals inside firms to generate investment for growth in the longer term
> Future-proofing the working environment in the era of agile working
> Technological disruptors, artificial intelligence and automation
> Turning data into profitable revenue: MI, business intelligence and pricing
> Information security: Creating behavioural and process change inside organisations to bake in information security and data protection.
Plus
The always challenging OLIL GC panel: The view from the client
And two special interactive sessions for experience sharing and structured networking with your peers and operational leaders outside legal.

Who should attend?
All those in operational leadership roles, including:
Chief operating officers
Business managers (responsible for practice groups, regions or offices)
US law firm directors of administration
Chief executives
Chief financial officers
Business services directors
Commercial directors
Practice directors
General managers
Directors of operations.
What do past delegates think?
"Excellent – very useful and interesting"
"Inspiring! Very good."
"I really enjoyed it and came to understand the tensions in the UK market far better. It was very valuable for me."
"I found the speakers to be universally excellent communicators."
"The venue was excellent, comfortable, and with a great location."
This event is supported by: