Briefing Operational Leaders In Legal 2018 conference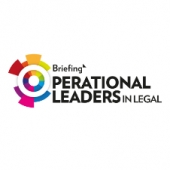 The only event to specifically target chief operating officers, business managers and others in operational leadership roles from large UK and international law firms, Briefing's Operational Leaders in Legal event returns in 2018 to enlighten, challenge and engage operational leaders by uncovering and discussing the issues they face in an increasingly challenging and fast-changing market.

Confirmed speakers
In-house counsel
>> Catherine Johnson, group general counsel, London Stock Exchange
>> Adam McArthur, assistant general counsel - operations, AstraZeneca
>> Matthew Newman, assistant general counsel, Royal Mail
>> James Omrod, chief legal officer and company secretary, International Personal Finance
>> Martin Potter, group general counsel, Canary Wharf Group
>> Sarah Spooner, head of legal, Vodafone
>> Kate Staples, general counsel and secretary, Civil Aviation Authority
>> Lucy Vernall, general counsel, Funding Circle
Law firm leaders
>> Andrew Edginton, chief operating officer, Gowling WLG
>> Mike Giles, finance director, Fieldfisher
>> Rod Harrington, chief operating officer EMEA, Norton Rose Fulbright
>> Becca Johansson, head of operations, real estate, DLA Piper
>> Bob Jones, head of UK operations, Linklaters
>> Joanna Lorimer, director of administration, Hunton & Williams
​>> Nathan Cornell, business and operations manager, Linklaters
​>> Andrew Powell, head of IT, Macfarlanes
​​>> William Robins, operations director, Keystone Law
>> Steve Rowan, chief financial officer, RPC
>> Sean Twomey, director of business development and marketing, HFW​
>> Stuart Whittle, business services director, Weightmans
>> Dan Wright, partner, service innovation, Osborne Clarke
​​Specialist consultants
>> A representative from the National Cyber Security Centre
>> Tom Birdseye, MD, head of EMEA consulting, Elevate
>> Felicity Burch, head of innovation and digital, Confederation of British Industry
>> David Cook, founder and CEO, Mason & Cook
​>> Jack Diggle, VP, global head of consulting, Elevate
>> Dr Trevor Gedeon, psychological skills mentor, Chimp Management
​>> ​James Gilding, managing director, Mitie Document Management
>> Norm Mullock, vice president - strategy, Wilson Legal Solutions
>> Chris Rowe, founder and empathic designer, Rehumanise
​​>> Andy Wansell, managing director, OJK
>> Ben Weinberger, vice president of solutions, Prosperoware​
​Operational leaders outside of legal
>> Danvers Baillieu , chief operating officer, InfoSum
>> Justin Nuccio, european director of finance and operations, Advent International
>> Dominic Regan, senior director EMEA logistics, Oracle


Agenda highlights
This year's conference examines how to develop operational excellence in times of uncertainty, through the lenses of people, technology and change.
People
> How to overcome silos and get operational and business services leaders working constructively together across boundaries.
> How should your firm be presenting itself to attract new talent and millennials?
> How far can business services professionals go in the legal sector and how do you get there?
> Building the business case for investments in staff wellbeing.
Technology
> What technology is currently being leveraged within firms, is its true value being realised and if not, what are the barriers?
> Which solutions should you be investigating in to create an agile workplace that is both people and results driven.
> To what extent will technology support the restructuring of roles within the firm?
> Moving beyond the hype: what is the reality on the ground now, what realistic investments should firms be looking at for tangible gains?
Change
> Prioritising where change needs to be made first and putting in place a change management plan to get there.
> What impact will AI, robotics and automation have on your firm and how can you mitigate and leverage these effects on pricing strategies, workflow and career development?
> To what extent does the financial model of the firm need to change and how do you incentivise the partnership to do this?
> Design Thinking and the role it can play in helping your firm tackle big ideas in a manageable way.
Want to sponsor the next event? Get in touch and click here to read about how you can get involved.
Who will benefit
All those in operational leadership roles, including:
Chief operating officers
Business managers (responsible for practice groups, regions or offices)
US law firm directors of administration
Chief executives
Chief financial officers
Business services directors
Commercial directors
Practice directors
General managers
Directors of operations.
This event is supported by: