Briefing Transformation Conference 2017, London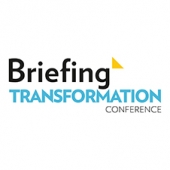 The market-leading Briefing Transformation conference returns on Tuesday 7 November 2017 at America Square, London - a one-day conference that's completely focused on the needs of business service leaders who are driving change and transformation in top 100 national and global law firms.
See the full agenda for Briefing Transformation 2017 here
Confirmed speakers
Marion McDonald, business transformation expert (Previously at AIG, Barclays, Deloitte, Halifax, PwC, Cap Gemini, British Airways)
Adam Hembury, director of innovation, DLA Piper
Mark Ford, chief knowledge officer, Baker McKenzie
Jason Dunning, principal consultant, DWF Consulting
Nick Jenner, director of IT, Ince & Co
Alex Smith, innovation manager, Reed Smith
Ben McGuire, COO, Innovation Group, Simmons & Simmons
Andrew Telling, head of knowledge management, Taylor Wessing
Joe Fredericks, director and personal communications consultant, PCA Law
Jennifer Emery, director of strategy and integration, CMS
Stephen Millar, managing partner, CMS
Steve Naybour, head of transformation, Network Rail
Hilary Scarlett, author, consultant, Scarlett Associates
David Wood, radical real world futurist
Agenda highlights:
A history of transformation – from business as usual to transformation as usual
Accelerated change is the new normal
At the coalface of consolidation – The Olswang, CMS, Nabarro merger story
A Network Rail transformation tale - Five key fundamentals to make transformation change your world
DWF Innovation Kitchen case study - Live demonstration of how DWF people are introduced to innovation
Lessons in innovation from a tech-ninja
Experiential forum theatre session on cultural transformation
AI – innovation opportunity or cause for concern?
Implementing and embedding transformational changes in legal business
Putting IT at the centre of agility - Digital transformation in law firms
Neuroscience for organisational change
How to make offshoring work in a law firm environment
Robots v lawyers - navigating the rapidly evolving landscape
Over 100 will attend from top 100 law firms including:
Directors and heads of ops, IT, strategy, innovation, BD, marketing and recruitment
COOs / CFOs / CEOs / CIOs / CTOs
Change, transformation, innovation and digital experts
... and many more
Check out what delegates from our last conference thought:
"Well worth attending, good mix of content and sessions. Made some new contacts which is always good."
"Great interactive event, good format. Exceeded expectations. Spot on with table plans"
"Great networking opportunities, seating plan at lunch worked well."
"Fantastic event - really worthwhile"
Your peers have already booked so email us to book in now!
Early bird is £445 which increases to £495 from 7 September.
What to expect
Agenda highlights:
A history of transformation – from business as usual to transformation as usual
Accelerated change is the new normal
At the coalface of consolidation – The Olswang, CMS, Nabarro merger story
A Network Rail transformation tale - Five key fundamentals to make transformation change your world
DWF Innovation Kitchen case study - Live demonstration of how DWF people are introduced to innovation
Lessons in innovation from a tech-ninja
Experiential forum theatre session on cultural transformation
AI – innovation opportunity or cause for concern?
Implementing and embedding transformational changes in legal business
Putting IT at the centre of agility - Digital transformation in law firms
Neuroscience for organisational change
How to make offshoring work in a law firm environment
Robots v lawyers - navigating the rapidly evolving landscape
Who will benefit
Over 100 will attend from top 100 law firms including:
Directors and heads of ops, IT, strategy, innovation, BD, marketing and recruitment
COOs / CFOs / CEOs / CIOs / CTOs
Change, transformation, innovation and digital experts
... and many more
Additional Information/Speakers
Confirmed speakers
Marion McDonald, business transformation expert (Previously at AIG, Barclays, Deloitte, Halifax, pwc, Cap Gemini, British Airways)
Adam Hembury, director of innovation, DLA Piper
Mark Ford, chief knowledge officer, Baker McKenzie
Jason Dunning, principal consultant, DWF Consulting
Nick Jenner, director of IT, Ince & Co
Alex Smith, innovation manager, Reed Smith
Ben McGuire, COO, Innovation Group, Simmons & Simmons
Andrew Telling, head of knowledge management, Taylor Wessing
Joe Fredericks, director and personal communications consultant, PCA Law
Jennifer Emery, director of strategy and integration, CMS
Stephen Millar, managing partner, CMS
Steve Naybour, head of transformation, Network Rail
Hilary Scarlett, author, consultant, Scarlett Associates
David Wood, radical real world futurist
This event is supported by: