Briefing on: Process and profitability in 2013

It's time to change... everything
Firms are changing their ways, and at that shifting core is process – from process-led working to mobility, from centralisation to outsourcing, new working methods, specialist units and more – we've got it covered in this month's bumper issue of Briefing. And as in our last edition on pricing and profitability, our experts detail exactly how legal must ride this new wave of thinking. They say it's time to change your frequency. Will you?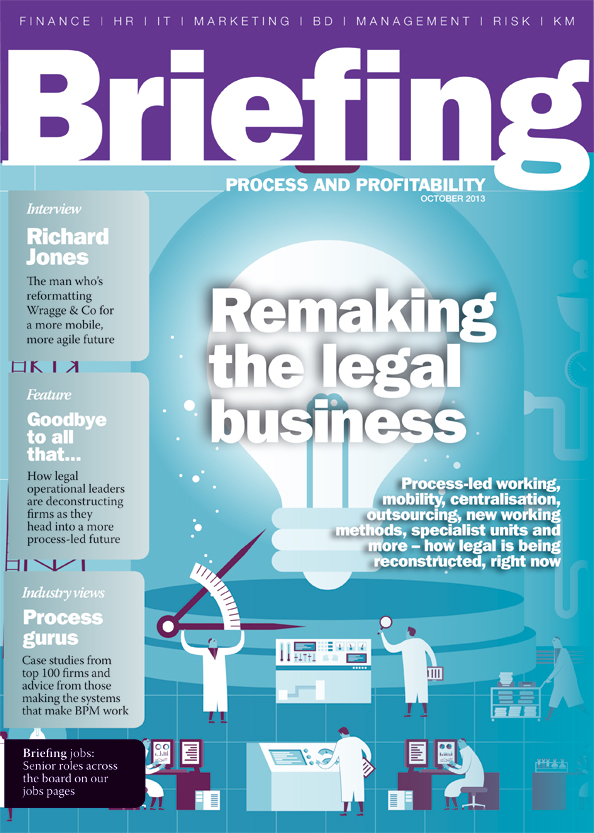 What's in this month's issue?
Interview: Rupert White talks to Richard Jones at Wragge & Co, about the seismic shifts of going paperless, being mobile, outsourcing, centralisation and adopting project-led working. Not to mention taking away your desks...
Feature: How operational leaders are deconstructing and, in some cases, throwing out traditional models as they head into a more corporate future. Clients are demanding improved process – and firms are responding, driven by BPM's quiet revolution. Nicola Laver talks to leaders at Addleshaw Goddard, BLP, Dundas & Wilson, Irwin Mitchell and Riverview Law about that future realised today.
Plus: Briefing speaks to issue sponsor Thomson Reuters eBillingHub's Carlos Seoane, about why billing automation and e-billing can affect every part of a firm's delivery – and its bottom line.
Sign up to receive Briefing every month
>> Missed an issue of Briefing? Download them now
Visit the Briefing home page where you can download all our back issues.
Download the Briefing media pack to find out how you can be involved in Briefing's future.
Any problems?
Having problems downloading Briefing? Email David or email Stella and we'll email you a copy instead.