First of LSN's October regionals starts with a Brummy bang!

This Wednesday (1 October) saw the first of Legal Support Network's October regional roadshows when we winged our way to Birmingham for an evening of legal chit chat, networking and refreshments.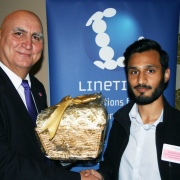 With the event starting at 6pm we saw 50 law firm guests from 24 different law firms attend from the local area along with 14 of LSN's networkpartner's to create a great atmosphere at the Colmore Bar and Grill on Waterloo Street.
We were lucky enough to have two sponsors on the night. A luxury cheese and wine hamper was the lovely prize from Linetime, and Advanced Legal's white badges donned the jacket pockets of all the guests.
One extremely lucky guest got more than he anticipated winning the luxury cheese and wine hamper courtesy of sponsor Linetime. Asghar Din from Pinsent Masons was one happy chappy going home hamper under arm given to him by Linetime's Nic Lakic, Business development manager.
'Thank you so much for the hamper and for organising such a great networking event pulling together a vast amount of experience from various support functions. I think it's of great value that legal support staff have a place to meet and discuss issues facing the legal sector in a fairly relaxed format and I even got the extra bonus by winning the prize! I look forward to the next meeting!'
Asghar Din, Financial systems administrator, Pinsent Masons.
The event also saw over 55% of LSN event newcomers. Emma Farmer, Bid Advisor from Mills & Reeve came along for her first LSN networking experience and enjoyed every minute she had this to say about her experience:
'Having never been to a "networking event" before I did feel a little intimidated about attending the LSN event. I quickly learnt that there was nothing to fear! As soon as I walked through the door I was greeted by big smiles when I found out what the event involved. I soon felt at ease. I had some really interesting conversations with teams from other law firms and Network Partners - it is really nice to know there is a network of these people who are experiencing the same issues and frustrations as me! Overall I found the event really useful and look forward to the next one! '
We love a happy newbie!
Thank you to everyone who braved the rain and made the effort to join us on Wednesday night. We hope to see you all again in March 2015!
So what LSN events are up next?
We hope to see you soon!