Intelligent Office celebrates tenth anniversary of Star Awards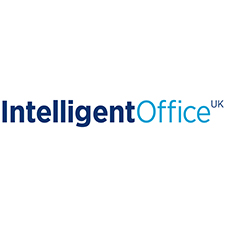 Intelligent Office UK celebrated a decade of talent with its tenth annual Star Awards. The awards, which showcase Intelligent Office's stars, saw the team at Farrer & Co take home the coveted site of the year award, alongside individual winners from Boodle Hatfield, Gowling WLG and Harper Macleod.
Rachel McCorry, Intelligent Office's Chief Executive, says, "The Star Awards are one of my favourite Intelligent Office occasions; an opportunity to bring together staff, clients and trusted partners to applaud the stars in our business.
"Recognition for the people who drive our business forward is fundamental to our culture. I am always so proud and privileged to be part of this special event."
Held at the Hyatt Regency Hotel in Birmingham, this year's Star Awards had 160 people in attendance. The winners are…"
Site of the year – Farrer & Co
This award recognises the site that has performed beyond expectations over the year, with client feedback an important factor. The winner was the team at Farrer & Co, with Gowling WLG and Nelsons Solicitors the shortlisted teams.
Employee of the year – Anthony Fairweather, Boodle Hatfield
This prestigious award is made to someone who has delivered great support to their colleagues, shown exceptional commitment to their client and adds something special to their team. The "best thing since sliced bread", floor support assistant Anthony anticipates customers' needs. He consistently receives excellent feedback, with customers and colleagues benefiting from his expertise.
Team leader of the year – Lisa Gardner, Gowling WLG
This award is for the team leader who has demonstrated the greatest potential during the year through their commitment to their client, team and the wider Intelligent Office business. A "consummate professional", Lisa is the go-to person for anything related to document production. In a fast-paced team, Lisa maintains a positive and proactive attitude.
Manager of the year – Robbie Foggo, Harper Macleod
Exceptional customer service and team development skills, plus a commitment to best practice and adding value are essential for the manager of the year. This year's winner, Robbie Foggo, is a great teacher, possessing huge operational experience and capability. He also has an unwavering ability to create calm
in even the busiest and most demanding of environments.
Regional star rocks
The regional star rocks award celebrates staff who deliver consistent support and service to their colleagues and customers every day. This year's 'rocks' are: multi-services assistant Lauren Davies, Gillespie Macandrew; Gemma Miller from off-site document production hub Intelligent Office Transcription Services; Rachel Rippington, a switchboard operator at Penningtons Manches; and Lorraine Woodford, part of the First Impression team at Bevan Brittan.
Other awards are:
The greatest value award – Gillespie Macandrew, Floor Support team
The Connect award for employee engagement – Louise Braithwaite, Bevan Brittan
The one team, one way award – Nelsons
"Congratulations to all the winners and to everyone shortlisted. You are all amazing! Thank you to our staff and to all the sponsors who helped to make these awards the best so far, including lead sponsor OfficeTeam and gold sponsors ITEC and Microsystems," adds Rachel McCorry.
Other sponsors included BigHand, Facilicom, MeetingZone, MJF Records Management, Rutherford Asset Management Limited, Restore Document Management, TheLogic IT Solutions and Workspace Design.
Intelligent Office helps firms in the legal sector change for the better, improving the quality of support delivered to partners and fee earners and helping firms save time and money. It achieves this by taking charge of PA and administrative services, leaving the firm's management free to concentrate on growth and partners free to develop and manage their practices.
The result: flexible, modern and professional support services; improved service for clients; increased profitability for the firm; and better opportunities for support staff.
The majority of Intelligent Office's services are delivered on site at clients' premises and include PA, reprographics, mailroom, facilities, matter management, front of house and core goods procurement. Intelligent Office also provides document production support both on site at clients' premises and via two onshore shared services centres in Scotland.
With more than 900 staff operating across 50 client sites and two onshore shared services centres, Intelligent Office is the leading provider of office administrative and secretarial services to the UK legal market. Clients include Gowling WLG, Capsticks, Farrer & Co, Bircham Dyson Bell and Boodle Hatfield.