LSN London airport ... it was time to check in

This Monday we hosted our July networking event at The Anthologist Bar in the city of London where it was transformed into a summer hotbed of legal chats and discussions!
14 July 2014 saw over 250 law firm guests checked in from over 87 different law firms. The seat belt signs were on, the goodie bags were packed and the estimated time of arrival was 6pm.
Yes you've probably guessed it … we went aviation theme mad for our most summery networking event yet. Everyone who came along on the night automatically gained entry into the draw to take to the skies with an extra special prize to win a flight in a Havilland Rapide over London for two people and a bottle of champagne courtesy of sponsor Konica Minolta.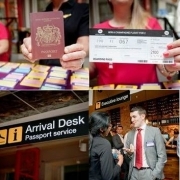 So dig your boarding passes out and let us know if it is you! To claim your prize please get in touch with Phoebe Brewster via email
phoebe@lsn.co.uk
.
Sponsored by Konica Minolta, Balance, Econocom and Linetime the evening progressed with a great summer atmosphere and lots of networking over a few drinks and nibbles, whilst catching up with familiar and new faces from the world of business services in legal.
We hope that everyone who came along on the evening had a great time and we hope to see you all next time, for a slightly more wintery evening on 10 November 2014.
Were you there?
Let us know what you thought about the event in the comments below or why not send us a tweet at @lsn_team.