LSN's final 2014 regional road trip to the legal people of Leeds

LSN ended the 2014 regional events with a trip to Leeds on Tuesday 21 October.
We welcomed 41 law firm guests from 18 different law firms from the local area along with 11 networkpartners at the White Cloth Gallery in Leeds city centre where legal chit chat and networking was abundant.
We were lucky enough to have not one but two sponsors on the night. Advanced Legal's white name badges made everyone's coloured badges stand out from their suits and Linetime had a hamper full of cheese and wine to give to one lucky winner on the evening picked out at random from the hat (well champagne cooler).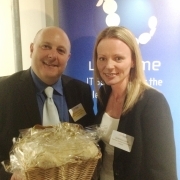 Deborah Lamb from Linetime was on hand to pick out the winning name. The human drum roll echoed through the gallery when Richard Powell, business development manager from Shulmans shouted 'come on' as his name was picked out. Even before winning Richard was feeling lucky 'it is either the hamper or the Euromillions tonight'. Needless to say Richard was extremely pleased with his hamper win and his children even more pleased when they discovered there was chocolate inside!
Not only did Richard win the prize but he also was a newbie and had this to say about his first LSN event experience 'Thank you to Legal Support Network for a thoroughly enjoyable networking event held at the White Cloth Gallery, Leeds on 21st October. As well as meeting some existing friends and business acquaintances, I managed to meet some other like-minded and approachable people with whom it was refreshing to exchange ideas. I look forward to attending the next event and, of course, seeing what my prize for attending will be this time!'
It has been really great to catch up with lots of familiar faces and some new ones at all the regional events this October. We hope to see you all next time too.
Our next regional events will be in March dates to be confirmed very soon.
So what LSN events are up next?