Nicholas Cashman receives his #LSN10 prize from BOARD

Tick tock, tick tock, the time is now…to win a prize. Well this was the case for one lucky winner who entered our June LSN10 prize draw.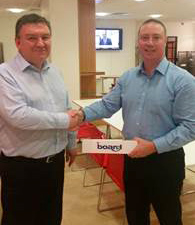 As LSN are celebrating their tenth year anniversary this year, our LSN10 sponsors are kindly giving away a prize each month, giving you guys the chance to win. Our June prize, courtesy of one of our newest LSN10 sponsors BOARD, was an Apple watch…amazing prize, we know.
We are pleased to announce that the winner was Nicholas Cashman (financial controller) from Bird & Bird, who received the trendy Apple watch this week from
BOARD
as seen below…smiles all around we see.
But the smiles do not stop there, we want to make more people smile with the help of our sponsors. So if you want a chance to win please enter our July prize draw. It really could be you, the proof is in the picture.