A tale of two beach balls at the last London Networking Event of 2014

Monday night (10 November) saw the last London Networking Event of 2014 go off with a legal networking bang (quite literally, so close to bonfire night).
300+ guests descended on the Anthologist bar on Gresham Street for an evening of legal chit chat, intermingling and networking over some nibbles and drinks.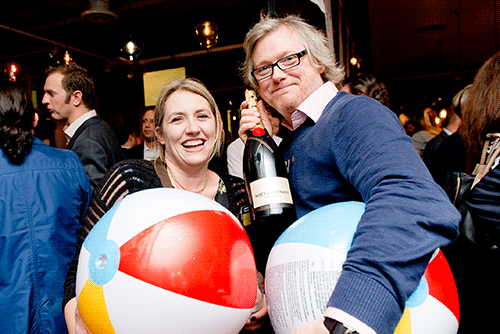 If you are interested, here's how the event shaped up. Event Stats (we'll test you on these later!):
305 guests attended in total of which 247 were representatives from 78 different law firms. 58 LSN networkpartners attended, which meant we had a 4:1 the ratio of law firms to networkpartners. 101 attendees were 'New 2 LSN' ie first timers and 146 loyal LSN'ers attended - we love you all.
To add to all the excitement we had a special prize draw to give away (randomly picked with the help of two beach balls in the crowd reminding us of summer festivals past). Two magnums of champagne perfect for New Year celebrations or even 'Happy Friday' courtesy of Wilson legal solutions. Congratulations to Jo Campbell of Veale Wasbrough Vizards who is a regular at our Bristol law firm forums, and had a great surprise at her first London event. Scott Hay of Berwin Leighton Paisner a loyal London networking attendee picked up the other bottle of champs. Well done to both.
A big thank you to our key supporters on the evening: Balance, DW Reporting and Linetime who all valued the opportunity to engage with decision-makers and influencers from those within legal.
We would like to extend a big warm thank you to all of those who have supported our networking events throughout 2014. We have loved catching up with you and really appreciate your continued support.
Look out for save the date emails for 2015 events. If we don't see you before: 'Brr December is cold,' 'Merry Christmas' and 'Happy New Year!'
See you in 2015!
Were you there?
Then head over to the photo gallery to see if you can spot yourself in the images from the night!
Let us know what you thought about the event in the comments below or why not send us a tweet at @lsn_team.
What's next on the LSN event calendar?
Briefing Operational Leaders in Legal 2014 conference - only two weeks to go!