Briefing on: Finance management in 2014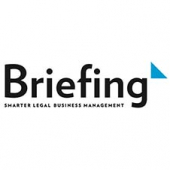 Bigger bangs, fewer bucks...
In this low-growth market, getting ahead through analytics is legal finance's zeitgeist - just how firms will achieve that in the new 'big data' normal means even bigger change for the industry.
Firms are refining the gnarly edges of how they understand data, how they see it and what they do with it; is that the next wave of culture shift in the way firms action their numbers and how they structure their businesses? And what will better collaboration in finance, IT and operations bring to those plans? Briefing on the future of law firm finance covers all that and much more.
What's in this month's issue?
Interview: Rupert White talks to Peter Hickman, CFO/COO of Linklaters, about thriving in a low-growth future, the potential gains of firm-wide enterprise IT and management information, mobilising tomorrow's more flexible workforce and whether we'll ever see a major law firm run by a finance chief.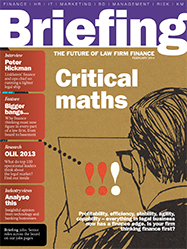 Feature: Declan Tan quizzes the people on the ground in legal's highly competitive arena, getting down to why everything from pricing to global best practice will have a finance edge in the future of legal business. With views from finance chiefs, finance systems gurus and operations leaders from BLP, Shoosmiths, Olswang, Charles Russell, Herbies and Stephenson Harwood - firms are gearing up to turn those blueprints into engines of commerce.
Research: International growth, cautious optimism and a vision of huge future firms - our research from the Operational Leaders In Legal 2013 conference gives an insight into the future of the world's top firms.
Insight: Briefing speaks to issue sponsor Thomson Reuters Elite's vice president of global implementations, Patrick Hurley, about using big data arguments to better understand data law firms already have but don't use - and making sense of complex information to better serve clients.
Sign up to receive Briefing every month
>> Missed an issue of Briefing? Download them now
Visit the Briefing home page where you can download all our back issues.
Download the Briefing media pack to find out how you can be involved in Briefing's future.
Any problems?
Having problems downloading Briefing? Email David or email Stella and we'll email you a copy instead.