Briefing: the People issue 2013

By the people, for the people
The discrete roles in law firm management are becoming an increasingly fluid pool of people, processes and systems – that's according to the operational leaders we spoke to for this, our very special second People edition of Briefing.
Adapting to a changing environment for legal businesses means creating deeper connections between business services roles and their lawyer counterparts and closer collaboration, both internal and external. Briefing talks to those leading these advances that are reshaping legal's as yet undefined future.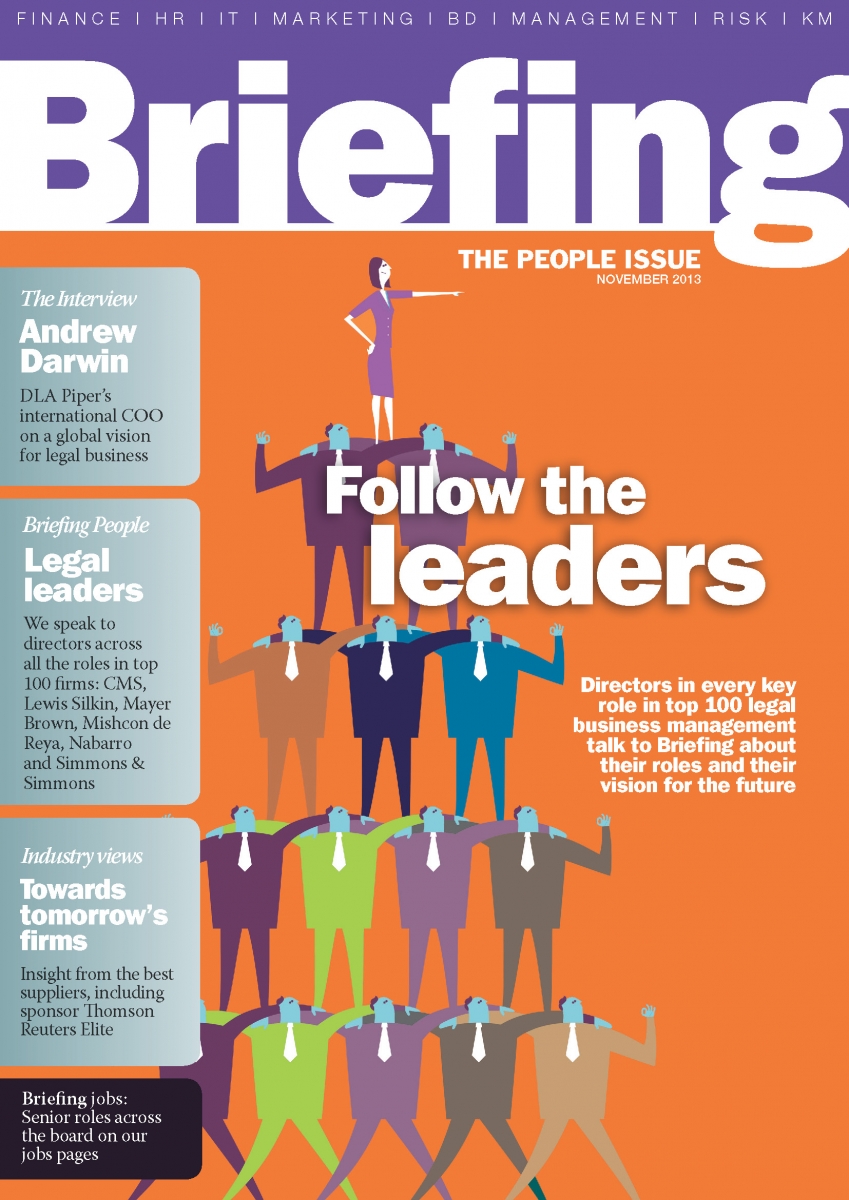 With hot topics from finding career paths for tomorrow's equity-disinterested lawyers to cloud computing and hot-desking; from redefining our understanding of legal 'knowledge' and 'risk'; from project management skills development to how Twitter is under-used as a way to drive interest to your firm – this issue covers not only how legal is changing, but who is managing that evolution, and why they must.
> What's in this month's issue?
> The Interview: Rupert White speaks to Andrew Darwin of DLA Piper about working at the top of the world's largest global firm – and facing up to tomorrow's competitive challenges.
> Feature: Declan Tan interviews directors at the top law firms as recommended by their peers, including: Kate Stanfield at CMS CMCK, Elliot Moss at Mishcon de Reya, Andrew Powell at Nabarro, Penny Newman at Lewis Silkin, Tracey Butcher at Mayer Brown, David McLaughlin at Simmons & Simmons – on the future of legal business.
> Plus: Briefing speaks to leaders at issue sponsor Thomson Reuters Elite, Allison Guidette, Eric Sugden and Elisabet Hardy about why one of the biggest legal software companies is integrating its people and its products to create a joined-up future for legal businesses of tomorrow – mobile, data-driven and better developed.
Sign up to receive Briefing every month
>> Missed an issue of Briefing? Download them now
Visit the Briefing home page where you can download all our back issues.
Download the Briefing media pack to find out how you can be involved in Briefing's future.
Any problems?
Having problems downloading Briefing? Email David (davids@lsn.co.uk) or email Stella (stellap@lsn.co.uk) and we'll email you a copy instead.