Briefing on: Strategies for growth in 2013

Can law firms become global businesses?
Can law firms scale? Can they become global or major international businesses? And what will they look like when they do? There is now widespread recognition of the vital importance of a sound business strategy for running a successful law firm. What are the top law firms doing and thinking about strategy in these increasingly competitive - and global - times?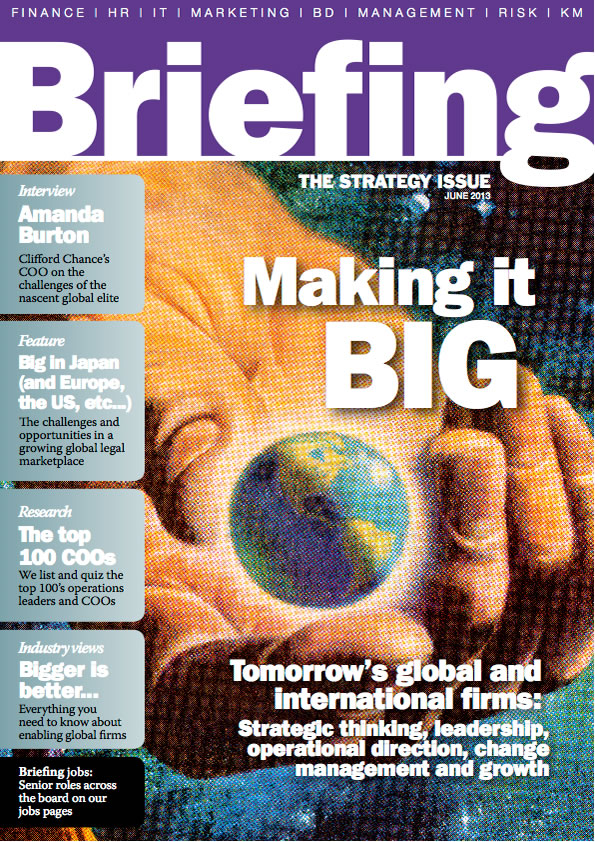 What's in this issue?
Interview: This month, Rupert White talks to Amanda Burton, COO of Clifford Chance, about whether legal is mature enough for COO's in any but the biggest firms.
Feature: Polly Botsford reports on why strategy has become so vital for a firms global success - including thoughts from chiefs at CMS Cameron McKenna, Herbert Smith Freehills, DLA Piper, Bird & Bird, Simmons & Simmons and Jomati Consulting.
Feature Extra: Jade Ollis finds out more about the mysterious verein business structure and ask the question: is anyone doing real mergers anymore?
Plus: Briefing speaks to issue sponsor Thomson Reuters Elite's David Lieu, about how to find the growth legal markets and what to do when you get there.
Sign up to receive Briefing every month
>> Missed an issue of Briefing? Download them now
Visit the Briefing home page where you can download all our back issues.
Download the Briefing media pack to find out how you can be involved in Briefing's future.
Any problems?
Having problems downloading Briefing? Email David or email Stella and we'll email you a copy instead.