Legal IT Landscapes 2011 Top 100 firms report

Legal IT people on the challenges facing law firms today
LSN's first research report, in conjunction with Legal IT Professionals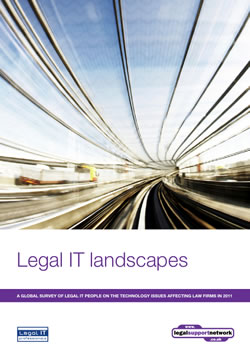 legalsupportnetwork's first report, in association with Legal IT Professionals, covers some of the key technology issues facing law firms in 2011:
Social media use in law firms for knowledge sharing and collaboration
Tablet computers in law firms: Fad, or finally here to stay?
What's stopping law firms from moving into the cloud?
Business intelligence: Now the norm, or still just for the 'clever' firms?
Document management: Is SharePoint finally ready to take on the world?
Changing up to Windows 7 and Office 2010: Challenges and opportunities
Legal IT people: How do they feel about their role, and is it valued?
We surveyed 712 legal IT people across the world about all issues above - gaining mainly the views of those in the UK and US - and the results will be interesting to both legal IT people and companies serving the legal IT community alike.
Across 26 pages of insightful, well-researched content we can reveal:
How UK and US firms differ in the adoption of business intelligence tools
Which legal IT roles feel most confident about their department's status
What legal IT people think of the future of tablet computers and social media in law firms
What IT people in law firms really think about Microsoft SharePoint, in all sizes of firm
What challenges IT people see in moving to the cloud
And much more.
Download your copy of the Legal IT landscapes report FREE today.