LPM magazine, November 2014 – Can QualitySolicitors carry it off?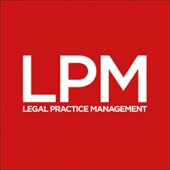 Last chance for Quality?
Five years on, the road for QS has been rocky. This month we look back at the various phases of QualitySolicitors and speak to new CEO Eddie Ross as well as current and past members. It has not achieved the market penetration it has aimed at, and it has changed its approach twice (so far). Does a new CEO at QS herald a winning move or its Waterloo?
What's in this month's issue?
Feature: LPM magazine speaks to the man pressing reset on QS – CEO Eddie Ross. But can the network ever be more than a marketing campaign? We also find out from some firms that have either loved or left it, including QS Talbots, Inksters and Fisher Jones Greenwood.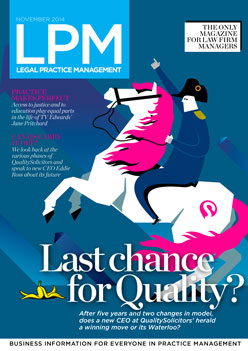 Practice Makes Perfect: Business development manager and head of housing and community care Jane Pritchard of legal aid firm TV Edwards talks access to justice and transferring her management skills to a school charity.
The columnists: Introducing Geraldine Collier, finance and practice manager at Dawson Cornwell, who talks change in SME legal; Emma Sell, practice manager at BDBF, on going from big firm to small; Richard Hill, practice director at Stepien Lake, on principles rather than rules-based regulation; Jitendra Valera of Advanced Legal, on how the time for digital signatures is now; and Janine Parker of Paragon, reviews the latest round of PII renewals.
In practice: Rob Adams at Anthony Collins Solicitors reviews The Good Risk Law Firm toolkit from the Compl-i team at Weightmans; HR Agony Aunt Polly Jeanneret talks tough decisions in partnerships, performance and retention; Your View on information security in legal comes under scrutiny; plus our monthly recap of the news, reports and research that matter.
Industry views: Kelly Clark of Thomson Reuters Elite on software capability and culture at SMEs; Rachael Shaw of Pickering & Butters on the joys of speech recognition from BigHand; and Lawrence Watkins of DW Reporting on visualising data for a stronger grasp on finance.
>> Missed an issue?

Visit the LPM magazine home page where you'll be able to download all our back issues and to sign up to receive LPM magazine every month.
Download the LPM media pack to find out how you can be involved in LPM magazine's future.
>> Any problems?
Having problems downloading LPM magazine? Email David or Phoebe and we'll email you a copy instead.