LPM magazine, December 2014 – From here to Clementi
A decade of difference
Did the Legal Services Act really reformat the law business? Or could the recession have done just as good a job on its own? And how has the LSA lived up to the Clementi report's goals? Find out in this month's issue.
Get your FREE copy now (click on the PDF above to download)
What's in this month's issue?
Feature: LPM looks back at the 10 years since Clementi, and where the LSA has succeeded, and where it's failed. Plus we poll the LPM audience as you score its success – with views from Professor Stephen Mayson, Sir Alan Beith and law firm leaders at Royds and Keystone Law.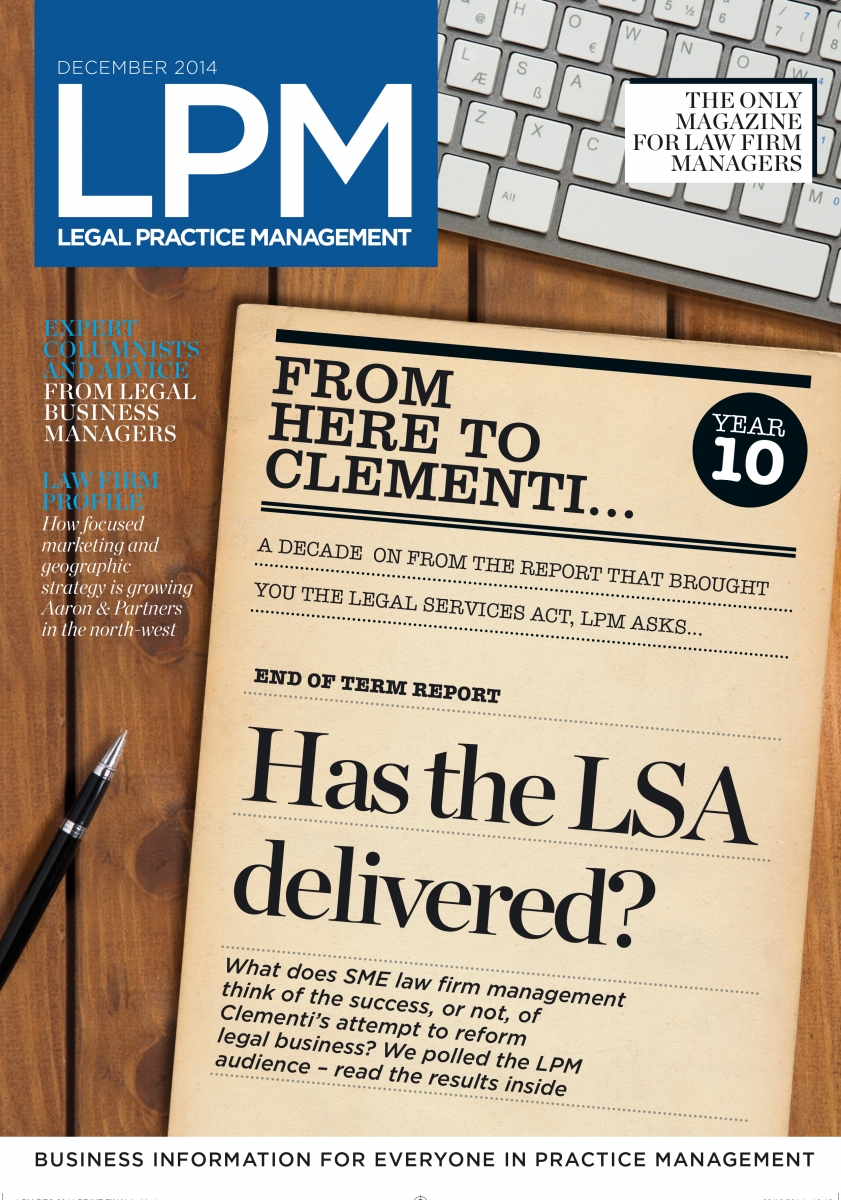 Law Firm Profile: CEO Andy Duxbury of north-west firm Aaron & Partners talks growth in a competitive market, forward-thinking in all areas of the business – and taking on the big cities with strategic nous.
The columnists: Richard Hill, practice director at Stepien Lake, makes the case for escrow in legal; Glyn Morris, finance director at Higgs & Sons, on strengthening the relationship with your bank; Jitendra Valera of Advanced Legal, on committing only to the right tech provider; and Janine Parker of Paragon rounds up a lively year in legal insurance.
In practice: Barry Davies of Douglas-Jones Mercer reviews Get Sh*t Done – a book of inspirational quotes for innovative businesses; HR Agony Aunt Polly Jeanneret talks the highs and lows of 2014 – and the awkward bonus question; Your View on life after Craig Holt at QualitySolicitors – and where the high street contender goes now; plus our monthly recap of the news, reports and research that matter.
Industry views: John Banister of Wiggin on developing the business with e-know.net managed desktop; and Nick Ellin of MacDonald Oates on wiping the tech slate clean with DPS.
Get your free copy NOW (download the PDF above)
>> Missed an issue?

Visit the LPM magazine home page where you'll be able to download all our back issues and to sign up to receive LPM magazine every month.
Download the LPM media pack to find out how you can be involved in LPM magazine's future.
>> Any problems?
Having problems downloading LPM magazine? Email David or Phoebe and we'll email you a copy instead.