LPM magazine, February 2015 – Technology trends
Turn on, tune in – or drop out
Technology has revolutionised almost every industry in the land, and for some it's wiped clean from the map traditional ways of working – insurance, banking, retail, estate agency and media, as examples, have been radically altered. Is it possible, yet, to say the same about law?
Get your FREE copy now (click on the PDF above to download)
What's in this month's issue?
Feature: Are law firms staying market-relevant when it comes to technology? LPM takes a look at tech progress in SMEs – and how they may not be as far behind big law as many think. Including views from leaders at Ashton KCJ, Hawkins Family Law, JB Leitch, Bowden Jones, Hodge Jones & Allen, and Aberdein Considine.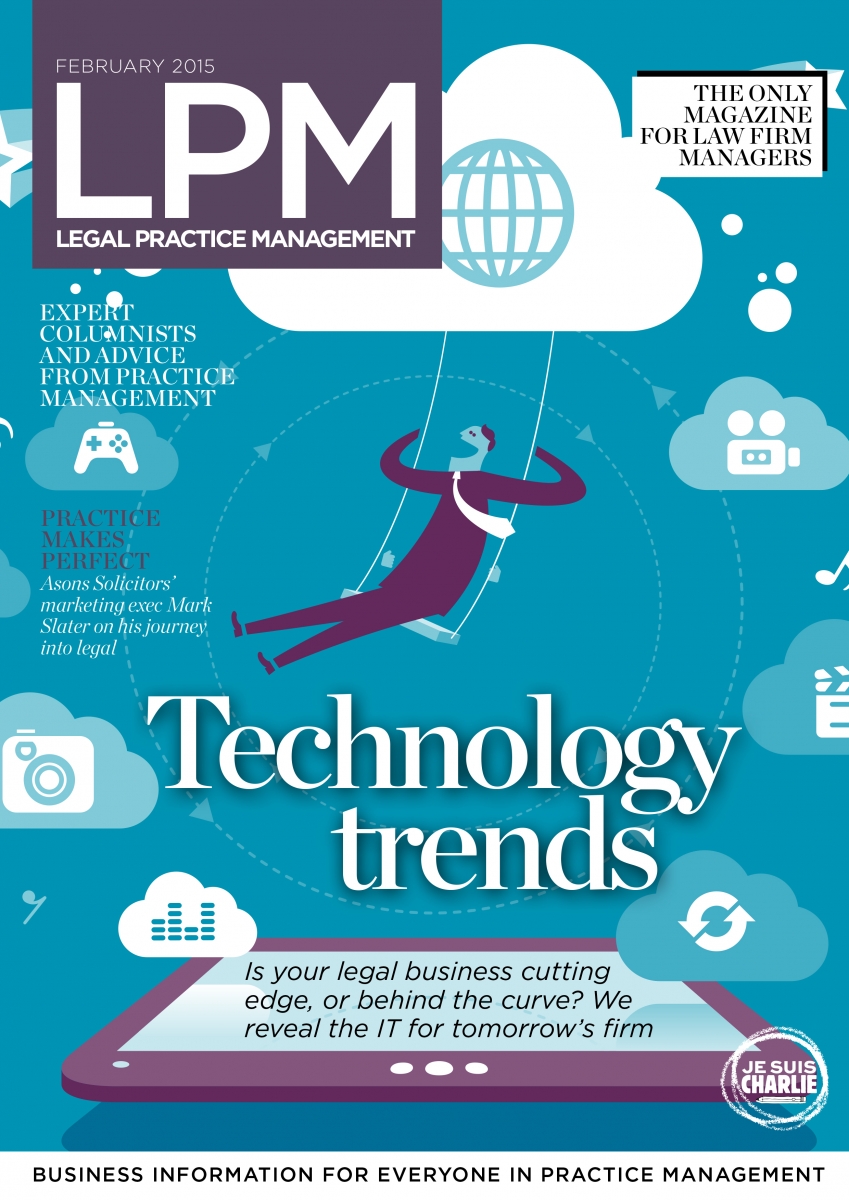 Practice Makes Perfect: Digital marketing and graphic design man Mark Slater at Bolton's Asons Solicitors talks new-look legal businesses for a digitising legal market.
The columnists: Introducing Jane Pritchard, systems and BD manager at TV Edwards, on transferring skills from legal to helping the community; Geraldine Collier, finance and practice manager at Dawson Cornwell, argues the side for non-lawyer COLPs; The File Queen Natasha Rawley of ADDS returns with a new tool to make information governance easy; Jitendra Valera of Advanced Legal, on knowing the best time to upgrade your technology; and Janine Parker of Paragon on new developments in the PI insurance market.
In practice: Rob Adams of Anthony Collins reviews The Reinventors, and finds out how it may (or may not) apply to legal; HR Agony Aunt Polly Jeanneret talks stressed-out trainers, failed probation and new year's resolutions (for 2016); Your View on whether the Clementi report and the Legal Services Act have delivered; plus our monthly recap of the news, reports and research that matter.
Industry views: Jeremy Stillman of Konica Minolta on how SMEs building better practices and unifying content early stand to benefit as they grow; Peter Alderson of LDF on the changed lending landscape – and how firms thinking differently about financing agility can grow; and Gwen Philippou of Nicholas & Co talks modernising the firm's dictation tech and empowering the firm's people with BigHand.
Get your free copy NOW (download the PDF above)
>> Missed an issue?

Visit the LPM magazine home page where you'll be able to download all our back issues and to sign up to receive LPM magazine every month.
Download the LPM media pack to find out how you can be involved in LPM magazine's future.
>> Any problems?
Having problems downloading LPM magazine? Email David or Phoebe and we'll email you a copy instead.