LPM magazine: Innovate to survive, June issue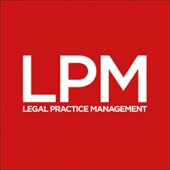 Changing horizons
LPM digs under the surface of innovation and change in SME legal – what are today's legal businesses doing in process, people and profitability to thrive and survive? Are firms incorporating? Becoming more diverse? Thinking differently about value-based delivery? We get the stories from leaders creating change on a daily basis, and how their people are meeting that challenge.
What's in this month's issue?
Feature: LPM magazine rounds up the talking points from this year's LPM conference – how firms can emerge intact, stronger and more positive from recent dark times, and why it's up to law firm management leaders to make legal's innovative future a reality. Featuring views from Andrew Hedley of Hedley Consulting, Robert Mowbray of Taylor Mowbray, William Robins of Keystone Law, Simon McCrum of Darbys, Glyn Morris of Higgs & Sons, Clive Meredith of Wollen Michelmore, and David Laud of Samuel Phillips.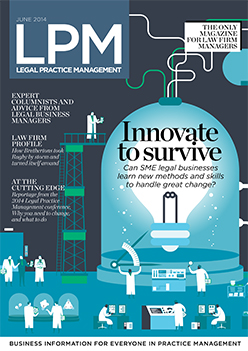 Law Firm Profile: Rugby-based Brethertons tells LPM about laying the groundwork of an innovative, growing business, and where it plans to go next. The Brethertons management team talks us through the strategy now and for the future.
The columnists: Richard Hill, practice director and chair of the ILFM, on SRA Accounts Rules; Emma Sell, practice manager at niche HR firm BDBF, on the tech challenge at your firm; Jitendra Valera of Advanced Legal on legal innovation and its F1 analog; Janine Parker of insurance broker Paragon on PII protection and pricing; Natasha Rawley, The File Queen of ADDS, on compliant records disposal and the DPA.
In practice: HR Agony Aunt, Polly Jeanneret, gives us her top three takeaways from this year's conference; COO at BPE Solicitors Adrian Peake reviews Agile Change Management by Melanie Franklin; as well as our monthly recap of the news, reports and research that matter.
Industry views: Osman Ismail of DPS Software outlines why SME firms need IT that can gather and analyse information from across the whole business; and Graham Wright, practice manager at Platt Halpern on using BigHand digital dictation to increase efficiency in a legal aid firm.
>> Missed an issue?

Visit the LPM magazine home page where you'll be able to download all our back issues and to sign up to receive LPM magazine every month.
Download the LPM media pack to find out how you can be involved in LPM magazine's future.
>> Any problems?
Having problems downloading LPM magazine? Email David or Stella and we'll email you a copy instead.