Industry interview with Tikit: Working together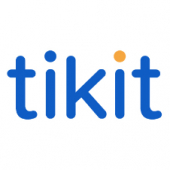 This article was also featured as an interview in the December 2016 issue of Legal Practice Management magazine. To read the issue in full, download LPM magazine.
Many firms use software to automate their processes and facilitate effective client communication. But they don't always use those products to their full potential. A recent Tikit survey of its own Partner for Windows users suggested that not all firms were making full use of the broad range of functionality offered by the product.
As such, Tikit has created a user group for law firms using P4W. But it's much more than just a standard, overly-technical forum, as LPM found out from Tikit user group chairs and legal management leaders Jane Pritchard, Liam Bramwell and Richard Hill.
Bramwell (pictured centre right), IT systems administrator at HLW Keeble Hawson, says: "Tikit users pay a licence fee to use the software but if they're only using 20-30% of the product they're missing out on a chance to reap competitive advantage."
Pritchard (pictured centre left), systems and business development manager at London firm TV Edwards, agrees with Bramwell and says that the key for SME firms to make sure they're reaping the full benefits of their software is collaborating with other law firms.
"Technology is constantly evolving and it isn't always immediately obvious which modules in legal management software will benefit your firm or how to use them to your advantage. The best way for firms to find out is by working with their peers to see how they've done it – because an out-of-the-box configuration is unlikely to work for anyone beyond installation day."
Hill (pictured left), managing director at Bristol-based firm Gregg Latchams, agrees with Pritchard and says this is why Tikit set up its P4W user group.
"The group is essentially a platform for likeminded legal management leaders to get together and help each other improve their businesses by using the full offering of software they already have. They come together in spite of the fact that they're in competition with each other, because it ultimately benefits them and their clients.
"Jane, Liam and I are chairs of the national and regional Tikit user groups and Jamie Abrahams (pictured right), IT and operations director at Harold Benjamin, has just become the group's treasurer. We believe that these groups have enormous potential to benefit our member law firms." He adds, however, that the user group can be used by firms to collaborate on a variety of issues, "but a particularly important area for firm collaboration is undoubtedly using our technology to improve client communication."
Communicative community
Hill says that Tikit's user group is essentially made up of legal professionals who are interested in using the full potential of P4W, but who don't want to keep reinventing the wheel.
"The chances are that the thing you're trying to do with your software to improve processes has already been done – you don't need to come up with 'innovative' ideas for using P4W from scratch." Bramwell agrees with Hill and says: "The user group gives you the chance to interact with other users and improve the way you use the product. You can approach a manager at another firm and say: 'We use this product in this way, how do you use it?' If their way is better than yours, you can take that knowledge back with you and implement it." He adds that Tikit provides an excellent platform for innovation – but under-investment in training and collaboration can leave firms ignorant of the solutions that the platform offers. A key objective of the user group is to cascade out ongoing and continuous training to everyone about the P4W product.
But, the group doesn't necessarily only collaborate on issues relating to Tikit P4W. Pritchard says that an important issue for her to discuss recently has been cybersecurity, and she's been able to use the user group as a platform to discuss ways to effectively combat the dark digital beast. But, she adds: "With a product like P4W, you have the perfect platform to build in your essential security protocols, and collaboration allows firms to discover the security functionalities that are already available to them."
Hill says that firms can also use the group to discuss the viability of third-party software. "This year, for example, Gregg Latchams installed third-party email software – but before we went into that we spoke to a number of firms in the Tikit user group who already had that system in place. We were able to identify what went well for them, what didn't go well, and we were able to head off some of those challenges before we signed on the dotted line."
Bramwell adds to Hill's point that the Tikit user group isn't just a platform for firms to work out what to do with their software, but also to discuss the challenges involved and work out how to overcome them.
"In particular, firms considering P4W as their practice and case management system can come to a user group event to learn about the product from their peers – what it can do for them, how they can use it, and the challenges it may present – before committing to anything."
Changing communications
But perhaps the best use of the user group for SME firms, according to its chairs, is as a platform for discussing ways to implement effective client communication. Hill says it's essential for SME firms to communicate effectively with their clients if they want to grab competitive advantage.
"In an increasingly competitive, digital-led, deregulated marketplace, the idea that legal professionals can wrap up a transaction in a mystique and expect clients to pay for it is absurd. Clients want to be kept in the loop about their case, expect fast transaction times and increasingly want to be contacted digitally."
Pritchard adds that meeting client expectations is vital to ensure excellent client service and to secure repeat business. "It's like any other business – clients won't necessarily come back to you because you've done an excellent job on their case if they haven't felt respected and included in the transaction. Contacting them adds value to the transaction"
But effective client communication isn't easy – according to Bramwell firms need to work out how their clients want to communicate with them and then work out how to improve their communication processes.
"It's a complex issue. Clients, as a general rule, want fast transactions and to be contacted digitally – but they may prefer more traditional correspondence like post or email (if email can be called traditional). And once you know what they want it may be difficult to work out how P4W can help you streamline the process to enable cost savings and greater business efficiency. In this way, firms need to make communication work for them and their clients."
Fortunately, Pritchard says, the Tikit P4W user group allows SME firms to come together to talk about what their clients want and the channels they use to communicate with them – and which are effective and which aren't.
"For example, one user group firm found that its clients primarily wanted to be contacted by email. The firm had to capture data from their clients by sending out PDF forms that needed to be filled in, sent back and manually input into the firm's database. They wanted to make the process more efficient but didn't know how – and through the user group they realised that they could use the new Formshare software to make the process more efficient by automatically stripping data from the PDF forms after they were sent back and populating their database." She adds that this improved process will have the added benefit of reducing inaccuracies in their database and saving their legal professionals an enormous amount of time opening cases and selecting templates.
There are also numerous service level improvements firms can make with P4W that they can learn about through the user group.
Hill says: "My firm's biggest challenge, for example, was making the process of setting up business events more efficient. The user group showed me how to use P4W's CRM module to drastically improve this process and the client experience – automating the process of sending out invites via email or text for our construction breakfast, curry club and sector networking events, monitoring responses and sending out confirmation. It's made the whole process significantly more efficient."
Bramwell, on the other hand, says that the greatest communications improvement made in his firm was the introduction of automated e-signatures.
"The Tikit user group helped my firm to realise the potential of automating the process of signing documents with e-signatures – which saved us an enormous amount of time and money."
Bramwell and Hill agree that automation is a key element in facilitating effective client service. Hill says: "Every firm should be doing it – clients feel more engaged because they're receiving regular updates, but legal professionals aren't spending time that could be spent on improving client service. Firms can realise the amazing benefits of automated communication by coming to the user group and hearing how their peers have done it."
Future improvements
Pritchard says she, Hill, Bramwell and Tikit are constantly working to make the group more collaborative and inclusive so that firms around the UK can reap the benefits of cross-firm collaboration. Recently, the user group has expanded to include additional regional groups with regional events organised to address the needs of those attending.
"The north user group is chaired by Liam Bramwell and the south by Richard Hill, while I chair the national group as well as London and the south east. We didn't want any P4W users to be left out because of their geographical location and not get the most out of their product – particularly when it comes to communication. The regional events are another opportunity to collaborate, but with peers that are perhaps more similar to them – perhaps they have similar clients or understand the challenges of operating in the same area of the country."
And, according to Pritchard, improving the user group has a direct impact on improvements to P4W, because the group is also used as a forum where P4W can suggest enhancements. "Tikit is already very good at taking on individual suggestions, but inevitably they are more likely to listen if a majority of its users get together and say: 'We also want the software to do that.' It's very important to Tikit that its customers have a platform to express their ideas to help them make P4W the best product that it can be."
Bramwell says that his firm is currently working with Tikit to provide a product that will allow the business to host information about client matters on their website.
"It would be extremely useful if clients could log in and tell us of any changes – for example, if they've moved house they can log in and update their old address and we'll be notified."
He adds that, in this way, the user group allows firms to shape innovative communications processes rather than just being innovative with what P4W currently offers.
But, for Hill, the most important aspect of the user group is that once improvements to P4W have been announced it gives his firm a forum to discuss how the enhancements could be used to benefit the business.
"For example, we've already been able to conduct roundtable discussions about Formshare and collaborated with other user group members to discuss how we can improve our client communications by using it – it essentially comes down to communication enabling better communication."