LPM magazine, July 2015 – Under pressure?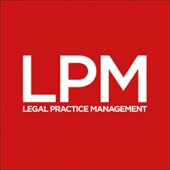 Under pressure?
Firms are adapting to new competition – but there's still plenty to rattle their cages. This month we find out whether firms are responding – and how – in our summer edition.
What's in this month's issue?
Feature: How can traditional firms respond to new entrants? We find out, with comment from Goodman Derrick, Wrigleys, IBB Solicitors, Cordell & Cordell, and Metamorph Law.
Practice Makes Perfect: We talk to Sarah Goulbourne, co-founder of Gunnercooke, about her experiences starting up a new firm with a new model.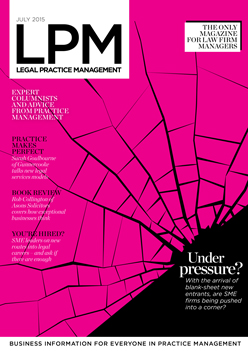 The columnists: Barry Davies of Douglas-Jones Mercer, questions the relevance of legal directories, while Stepien Lake's Richard Hill gives us the prognosis for the property market post-election. Plus, Doug Hargrove of Advanced Legal on timing change at your business; Joanna Swash of Moneypenny on creating a winning workplace; Janine Parker of Paragon Brokers on the insurance challenges of HR at legal practices; and Natasha Rawley of ADDS on when to change your information management processes.
Book review: Is there a secret to what makes an exceptional business? Rob Collington of Asons Solicitors reviews The Three Rules.
>> Missed an issue?

Visit the LPM magazine home page where you'll be able to download all our back issues and to sign up to receive LPM magazine every month.
Download the LPM media pack to find out how you can be involved in LPM magazine's future.
>> Any problems?
Having problems downloading LPM magazine? Email David or Phoebe and we'll email you a copy instead.