LPM magazine, July: Fixed fees: kill or cure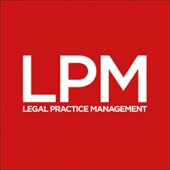 The price of progress
Differentiation comes in many varied forms, and one of them is pricing. But are law firms now being forced to dance to a fixed-fee tune? Taking alternative pricing forward to improve transparency and client satisfaction means taking firms' internal working into a new phase – that's bringing in new disciplines to legal, and presenting real opportunity for change in the SME market. We cover the fixed-fee debate, the challenge of productivity, moving offices, going into the cloud, bogus firms – and much more.
What's in this month's issue?
Feature: LPM magazine deconstructs the fixed-fee debate and asks what the cost of moving to a new world of fees might be for tomorrow's SME firm, with views and analysis from leaders and experts at QualitySolicitors, Cranfield University, Mayo Wynne Baxter, Manchester Law School, Møller PSF Group, Imperial College Business School and Samuel Phillips.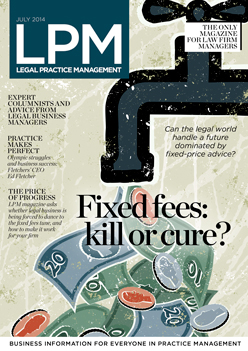 Practice Makes Perfect: CEO Ed Fletcher of Fletchers Solicitors talks to LPM about the GB paratriathlon squad, becoming a better leader, and why SME legal is the place for him.
The columnists: Jitendra Valera of Advanced Legal on productivity and projects; Natasha Rawley, The File Queen of ADDS, moving offices and keeping records.
In practice: HR Agony Aunt, Polly Jeanneret, covers the perils of dismissal, silly season lethargy, and assessing the reality of complaints; a preview of the LPM 2014 conference report; as well as our monthly recap of the news, reports and research that matter.
Industry views: Paul Coote of Instant On IT outlines the pitfalls and benefits of moving law firm technology in the cloud – being selective and successful.
>> Missed an issue?

Visit the LPM magazine home page where you'll be able to download all our back issues and to sign up to receive LPM magazine every month.
Download the LPM media pack to find out how you can be involved in LPM magazine's future.
>> Any problems?
Having problems downloading LPM magazine? Email David or Phoebe and we'll email you a copy instead.