LPM magazine, June 2015 – Brighter ideas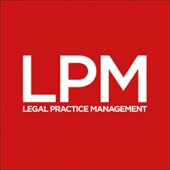 Brighter ideas.
From how firms will have to reposition themselves among new entrants, to thinking about client value and service differently, and how to restructure the firm to meet those needs – we've got it covered in our LPM conference 2015 write-up, with added insight from those who presented and attended on the day.
What's in this month's issue?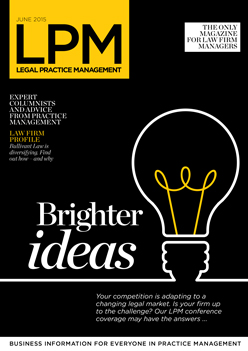 Feature: This issue, we report from LPM conference and explore some of the topics our erudite panel of speakers brought to the fore, including views from leaders at Thomson Snell & Passmore, Fletchers Solicitors, Breeze & Wyles, Taylor Vinters, Aaron & Partners, Sherbornes, Blacks Solicitors, and speaker Jeremy Hopkins.
Law Firm Profile: We talk to Avtar Bhatoa, senior partner at Bullivant Law, about how his team are doing innovative things in technology – by making it themselves.
The columnists: Geraldine Collier, practice and finance manager at Dawson Cornwell, takes on the training malaise in legal, while practice director at Paris Smith, Alan Cousins, looks ahead to the SRA's new risk outlook. Also, Janine Parker of Paragon Brokers helps your firm give insurers a better view of your business; Doug Hargrove of Advanced Legal on how to test your customer service; and Natasha Rawley of ADDS covers off the information management process – and how to track it with more accuracy.
Book review: What makes a good leader? Head of employment law team, Helen Watson of Aaron & Partners, finds out in her review of Simon Sinek's latest title, Leaders Eat Last.
>> Missed an issue?

Visit the LPM magazine home page where you'll be able to download all our back issues and to sign up to receive LPM magazine every month.
Download the LPM media pack to find out how you can be involved in LPM magazine's future.
>> Any problems?
Having problems downloading LPM magazine? Email David or Phoebe and we'll email you a copy instead.